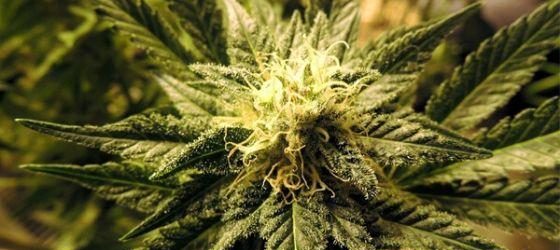 https://cannabisexaminers.com/wp-content/uploads/2020/01/Untitled+design+-+2019-12-17T170427.279.jpg
ROCKFORD and CHERRY VALLEY, Ill. (WIFR) — Marijuana munchies, a newer term to Illinois now that recreational marijuana is legal and giving restaurants a new crowd. If you smoke or eat pot, these munchies are also known to give you an instant craving of salty, sweet or fatty carbohydrate-rich foods when using the drug.
A Kentucky lawmaker has pre-filed a bill to legalize marijuana in the commonwealth. / (MGN)
The main reason behind why this happens, THC or tetrahydrocannabinol, the drugs main ingredient is how users get that "high" feeling when using cannabis. It's also responsible to the increase in food cravings.
Beef-a-Roo is one Stateline restaurant chain that's beginning to see the trend of the munchies. Melissa Pratt, one of the co-owners of the locally-owned chain says that they have the perfect items to satisfy those cravings. She says, "No matter what brings on the munchies, you know definitely salty fries, cheesy fries, that kind of stuff."
She says the company keeps an eye on what the people want, saying "We watch our socials and i think what a lot of people say is they find themselves wanting chocolate shakes, fries chicken strips and actually dipping their fries in their shakes. snacky stuff is big."
Restaurants also are beginning to take advantage of delivery services, like GrubHub or Uber Eats. This is because driving while "high" is illegal and this promotes more food sales, all while playing it safe.
With the traffic at local dispensaries like Sunnyside, nearby restaurants are taking advantage of the new crowd. Mary's Market on Perryville is located right next to the dispensary and when it first opened, they dealt with the long lines and having no parking.
Now that a few weeks have passed, management has realized these crowds are a big deal. They are beginning to adjust and have plans in the future. Pamela Kehoe, General Manager of Mary's Market on Perryville says because of their location, they have an advantage to try and use.
She says, "I am going to develop some coupons that are targeted towards the customers so we can give them a discount on muffins and things like that. We can have a partnership that's beneficial to both them and us."
While Rockford businesses are booming from the Cannabis craze, not every municipality is on board. The Village of Cherry Valley has yet to approve the sale of marijuana. Nancy Belt, a trustee for the Village of Cherry Valley, has been leading the discussion on an ordinance that would not allow the village to sell cannabis in retail stores.
She says, "Any other ordinances that would allow for growing marijuana and anything else in people's homes or any kind of sales area prohibited by the ordinances presented to us by the state." While she's been leading the discussion over the ordinance, not all trustees are ready to throw in the towel. Some saying they want to take a deeper look first.
Jeff Fustin, Trustee from the Village of Cherry Valley says, "Revenue that cities in Colorado have seen and and other states that have sales to see what kind of a revenue number we might expect. We need to be informed before making a decision to not allow it."
The Village will continue its discussions over the ordinance at the next meeting of the Committee of the Whole on February 10.