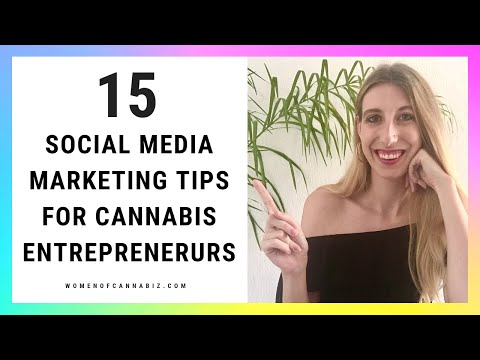 https://cannabisexaminers.com/wp-content/uploads/2019/01/3461/15-social-media-marketing-tips-for-cannabis-entrepreneurs.jpg
↪✨📱🤳Free Cannabis Content Reference Sheet http://bit.ly/2C2hYxl ✨ ↩
In this video, I'll be discussing 15 Social Media Marketing Tips for Cannabis Entrepreneurs + a FREE Content Reference Sheet to help you start brainstorming ideas.
► Relevant Resources:
Free Cannabis Content Reference Sheet: http://bit.ly/2C2hYxl
Social Media Scheduling Tool Buffer: buffer.com
Social Media Scheduling Tool Hootsuite: https://hootsuite.com/
⚏⚏⚏⚏⚏⚏⚏⚏⚏⚏⚏⚏⚏⚏⚏⚏⚏⚏⚏⚏⚏⚏⚏⚏⚏⚏⚏⚏⚏⚏⚏⚏⚏
ABOUT: Welcome to the Women of Cannabiz YouTube Channel! Each week, I'll be sharing actionable tips, resources, and tactics you can use to grow your cannabiz.
► Subscribe Now: http://bit.ly/2mvxJme
Meet Founder Rachel Garland 👩‍💻 🌿
Rachel Garland is the founder of Women of Cannabiz.
A professional cannabis writer and educator – she is dedicated to empowering women in combining passion and purpose in the cannabis industry.
In June of 2016, she launched Women of Cannabiz to inspire, educate, and elevate female cannabis entrepreneurs worldwide. Today the platform has grown to over 37,000+ followers and is home to an international community of cannabis women.
Rachel is currently based in Mexico but travels to other places with palm trees frequently.
⚏⚏⚏⚏⚏⚏⚏⚏⚏⚏⚏⚏⚏⚏⚏⚏⚏⚏⚏⚏⚏⚏⚏⚏⚏⚏⚏⚏⚏⚏⚏⚏⚏
📬 For Business Inquiries: contact@womenofcannabiz.com
💌 Contact Rachel Directly: rachel@womenofcannabiz.com
⚏⚏⚏⚏⚏⚏⚏⚏⚏⚏⚏⚏⚏⚏⚏⚏⚏⚏⚏⚏⚏⚏⚏⚏⚏⚏⚏⚏⚏⚏⚏⚏⚏
► Are you a woman in the cannabis industry? Learn more about Getting Featured on Women of Cannabiz: http://bit.ly/2teqDsp
Find Women of Cannabiz on 🌈 💨
Instagram: https://www.instagram.com/womenofcannabiz/
Pinterest: https://www.pinterest.com/womenofcannabiz/
Facebook: https://www.facebook.com/WomenofCannabiz/?ref=bookmarks
Twitter: https://twitter.com/WomenofCannabiz
Website: http://www.womenofcannabiz.com/
► Extra Resources 👇
FREE EBOOK – 5 Steps to Transition Your Expertise to the Cannabis Industry: http://bit.ly/2lzOpZt
10 Best Ways to Marke Your Cannabis Business Online: http://bit.ly/2Bo9M6i
25 Essential Online Business Tools for Cannabis Entrepreneurs: http://bit.ly/2wGypMw
More Free Cannabiz Education:
http://bit.ly/2DkuCbh