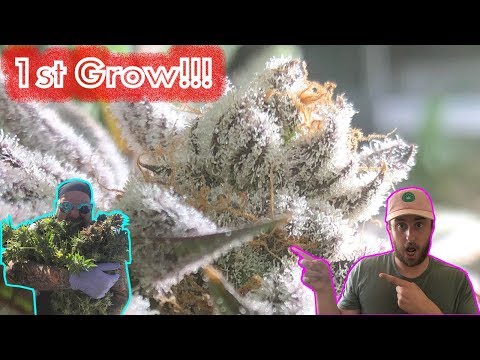 https://cannabisexaminers.com/wp-content/uploads/2019/01/3447/1st-time-cannabis-grower-reviewing-their-first-harvest-with-greenbox-grown.jpg
***FREE Trial to my Step-by-Step Cannabis Grow Videos***
(email dylan@greenboxgrown.com for details on how to sign-up)
You can also text our Grow Hotline with questions or concerns you may have with your plants. Text messages are returned within 24 hours. Click Here to Contact: https://goo.gl/TMPNEL
What up cannabis growers and welcome back for another lit episode GreenBox Grown! Now today I'm really excited because I'm going to be showing you guys some videos that were taken by a few clients of mine, and these handful of first-time Growers are going to be showing you guys what their Gardens are looking like so far through the growing process and all of these people have been growing only using my step-by-step grow videos or my one-on-one grow guidance. And then some of them have actually been using both of those Services together to get these results.
So I'm really stoked because these Gardens are looking absolutely amazing, getting some really nice buds growing in there and again this is all from first time growers who have no experience at all with growing cannabis at home or at any other sort of situation. And it's just strictly using my personal guidance and step by step videos.
So let's go check out those videos that they sent in recently, now before I get started I want to remind you guys that if you are interested in signing up for these step-by-step grow videos, just check them out at the link right here on the screen. When you sign up, that comes with a two-week free trial and you will not be charged anything until after that trial period. So you can browse our entire grow a video library free of charge.
You also notice in this video a lot of the girls are coming from all over the world,  so different parts of the US going from the west to east coast. And even parts of the UK and Europe. Alright so now that you guys know what we are doing in today's video, let's get started with our first clip from a grower that is actually straight out of Sweden!
Hello I am here from Sweden again, we are now about 2 to 3 weeks from Harvest and the buds are coming out really nicely. Very frosty and the smell is awesome, as you can see it's quite much. Very sick already!
hey everybody, it is day 67 of flower on these Cinderella 99 plants and they're going to be ready to be chopped in a few more days. It'll probably be Tuesday which is Day 70. So I have to give a quick shout-out to Dylan and green box grown because without him it would not be possible. This is the first row for me and I learned a heck of a lot, patience is one of them. But you know Dylan was there every step of the way with any questions I had, especially when I would freak out about certain issues that would arise. So if you are looking to learn how to grow your own,  definitely highly suggest that you talk to Dylan and see what he is about, check out of testimonials, check out his videos, his Instagram posts, Etc.
And breaking everything down and seeing their success, seeing what works and what doesn't work and of course that is just the biggest thing with growing, you have unlimited options and different ways to grow, mainly it is all up to you in the proper guidance where you need to understand overall how this all works I guess.
But other than that I had an absolutely fantastic time growing, anytime I had an issue with overheating, perhaps it got too hot in the tent, literally within minutes, Dylan came back with the solution that worked. So I can't be any happier than that, overall fantastic work and I look forward to Growing again and being a part of the green box grown Community. Thanks bye!
Alright green box Growers, so there you have the reviews and videos send to end from my first time grower clients and again if you are looking to get your garden started at home and you are looking to get these types of results, definitely check out the link on the screen right here to sign up for that two-week free trial to our step-by-step grow videos.
And then also check out this link here to visit our patreon page if you are interested in that one-on-one grow guidance. As always thank you guys for watching, I hope you enjoyed today's video and I will be back shortly with some cannabis growing as well as product review videos, but in the meantime…
Happy Growing!