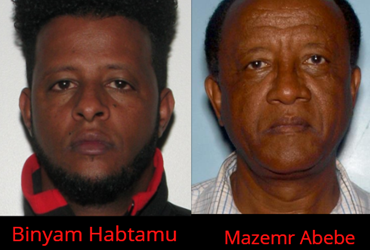 https://cannabisexaminers.com/wp-content/uploads/2020/08/image003-e1596507529666.png
ALBUQUERQUE, N.M. — New Mexico State Police arrested two men they say were transporting 580 pounds of marijuana in a semitrailer truck through Gallup last week.
The driver, 36-year-old Binyam Habtamu Getahun of Alexandria, Virginia and co-driver, 64-year-old Mazemr Abebe Belayneh of Snellville, Georgia are both charged with possession of marijuana with intent to distribute and possession of marijuana. They were booked into the McKinley County Jail.
Officer Dusty Francisco, a State Police spokesman, said on July 31 around 4 p.m. officers conducted a safety cab inspection on a 2014 Freightliner commercial motor vehicle.
"During the inspection, officers discovered 495 vacuumed sealed packages of Marijuana," Francisco wrote in a news release. "The packages were concealed inside 20 Home Depot boxes in the trailer of the CMV. The total amount of Marijuana seized weighed 580 pounds."
The charging documents for the men were not immediately available.
……………………………………………………….