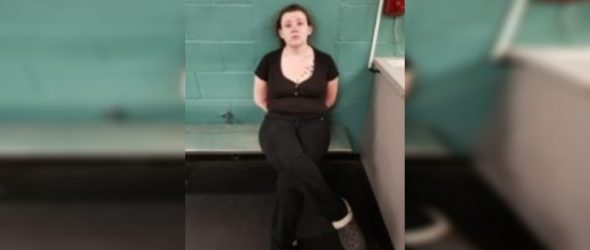 https://cannabisexaminers.com/wp-content/uploads/2020/04/Aspen+Link.jpg
REDDING, Calif. – Redding Police arrested a 21-year-old woman Saturday after she caused a collision due to distracted driving and impairment from marijuana. After her arrest over 3 pounds of marijuana and other materials consistent with marijuana sales were found in her vehicle. 
Police say this occurred Saturday, April 25, at approximately 6 p.m., when Redding Police Officers and Community Service Officers responded to the area of Churn Creek Road and Harpole Road for a report of a collision involving two cars with the occupants possibly injured.
Upon arrival, police say all of the people involved were not injured but the driver of a 2008 Chevrolet Aveo that ran into the rear of a 1964 Chevrolet was believed to be driving while under the influence of marijuana. Everyone involved was wearing seat belts.
Officers contacted Aspen Link, 21, of Hayfork, CA who admitted she had been driving her car southbound on Churn Creek Road and didn't notice the car in front of hers had slowed in preparation for an eastbound turn onto Harpole Road.
According to police Ms. Link admitted she was using her cell phone and wasn't paying enough attention. While talking to Ms. Link, Officers noticed a heavy odor of burnt marijuana coming from her person and had her perform a series of field sobriety tests. Her performance led officers to believe she was DUI marijuana.
Ms. Link was arrested and her car impounded. During a search of her car, officers located over 3 pounds of marijuana, approximately 50 marijuana cigarettes, and cash consistent with the sales of marijuana. All items were seized.
Ms. Link was transported to the hospital initially and then on to the Shasta County Jail where she was booked for Driving on a Suspended License, DUI Drugs, and Possession of Marijuana for Sales.