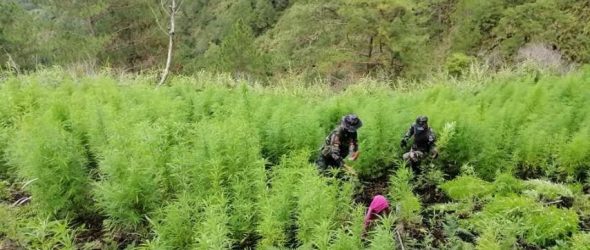 https://cannabisexaminers.com/wp-content/uploads/2020/06/IMG-684bec8cd00807702b1e770f8863894f-V.jpg
By Aaron Recuenco
Police have discovered more marijuana plantations that produce more than P60 million worth of finished products in a two-day operation in the remote areas of Tinglayan town of Kalinga.
Brig. Gen. R'Win Pagkalinawan, director of the Cordillera regional police, said the recent raids resulted in the discovery of P45.3 million worth of fully grown marijuana plants in three plantation sites in Barangay Loccong.
The raids, he said, were conducted at around 5 p.m. on Wednesday based on intelligence reports about plantations in various areas in Tinglayan town.
"Our personnel uprooted all the marijuana plants and burned them on site after the documentation process," said Pagkalinawan.
The first raided plantation has a land area of 1,300 square meters with 6,500 fully grown marijuana plants; the second has a land area of 6,000 square meters with 60,000 marijuana plants; and the third has a land area of 8,000 square meters 160,000 marijuana plants.
Pagkalinawan said that the Wednesday operations were a follow-up to the discovery of six small plantation sites also in Barangay Buscalan also in Tinglayan town on Tuesday morning. Authorities seized some P13.7 worth of marijuana plants in this operation.