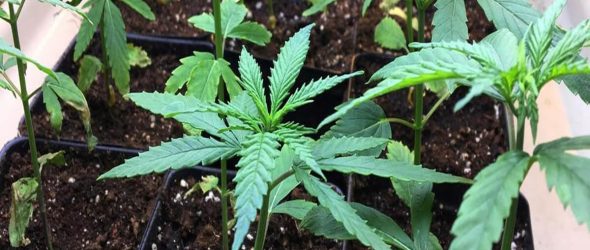 https://cannabisexaminers.com/wp-content/uploads/2020/01/potted-seedlings-1.jpg
Transplanting Cannabis Seedlings – Out of all the different steps in the entire cannabis life cycle, most people tend to struggle with the seedling phase because of the complicated and intricate process that comes with it. No matter how difficult it can get, however, it is still important to take the utmost care when dealing with the seedling phase because it is the most important stage in the cannabis life cycle.
Regardless of whether you're growing cannabis from a seed or a clone, your final output's quality will always depend on how you approach the seedling phase. Given the intricacies of hands-on cultivation with cannabis seedlings, there's one particular task that requires a bit more care and attention: transplanting cannabis seedlings.
It may not be as complicated as on organ transplant, but the task of transplanting cannabis seedlings is a fairly difficult task with a small margin of error. Know that getting either the timing or execution during the transplanting process wrong will immediately end up losing the entire crop.
Fortunately, growing great cannabis doesn't always have to be a life-or-death situation as long as you know the exact steps and precautions to take throughout the process. In this guide, we'll go over the process of successfully transplanting cannabis seedlings to get them growing quick and easy:
When you should transplant cannabis seedlings
Generally speaking, the best time to transplant cannabis seedlings is when they're about to outgrow their current container. If you've grown your seedlings so far in a cube, a clear sign of your seedlings outgrowing it is when the roots start to poke out.
On the other hand, if you started growing your seeds with a small pot or cup, you should look out for above-ground cues that will tell you when it's time to pot up. A clear sign of your seedlings outgrowing the pots they're in is when the sets of your plant's true leaves have spread out and completely covered the circumference of your container.
Another aspect to watch out for is vertical growth because taking out your cannabis seedlings when they've reached the peak of your container for a long time increases the risk of permanently stunted growth. For rootbound plants or cannabis seedlings, in particular, it's best to stay aware around the seven to 10-day mark if you're growing them in a small starter pot that has a volume of one litre or less.
How you should transplant your cannabis seedlings
Knowing when to transplant your cannabis seedlings may be one aspect of growing ganja that you should be aware of, however, knowing how to transfer them is an even more important manner.
Setting up the pot
If you're working with cubes, you can either cut a hole in the current cube to size in a bigger block, or you can burrow a hole into the medium using your fingers and subsequently insert it for a snug fit. Alternatively, here are the steps you should follow if you're using pots:
Take your large container and only water it halfway through so that you'll leave enough room for proper watering that can easily reach the roots.
Make an impression in your larger container with the use of the pot that your cannabis plant is currently in. It is worth noting, however, that the best time to make the impression or imprint is after you've watered it.
Preparing your soil
After you've set up the pots for transferring, note, it is best to wait until the medium that you've placed in the small pot is dry. The reason for dryness as an optimal time for transferring is that wet soil will fall apart in chunks, leaving your roots potentially exposed and devoid of the proper nutrients in the process.
Transferring the cannabis seedlings
Once everything is set, turn your dry plant upside down and firmly pat its bottom to ensure that the soil is dense enough to stick in place. Next, grasp the stem of your cannabis plant from the base and ease the compacted medium out of your old pot so that it comes out in one piece. As soon as you've eased the plant out, gently slide your plants into the larger container with the roots first so that it is ready for the larger container. Throughout the transferring process, you may end up losing a bit of topsoil, so replace it with a handful or two over the top of your newly-transferred plant and add a bit more water afterwards.
Transplanting your cannabis seedlings from one pot to another can be stress-free as long as you have the right knowledge when approaching the entire process. With this quick guide, you can transplant your cannabis seedlings at the right time with the proper procedures, as a result, there's no risk of losing all of your hard work.
If you are looking for RQS, hemp, or CBD seeds in the UK, get in touch with Coffee Shop Seeds to see how we can help.