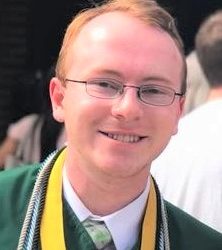 https://cannabisexaminers.com/wp-content/uploads/2020/04/Ryan-Matthew-Wilkerson-VHS-graduation-photo.jpg
For the second time in less than a week, a 2017 Villages Charter School graduate has been jailed on multiple drug charges.
Ryan Matthew Wilkerson, 20, was arrested early Wednesday morning after a Marion County sheriff's deputy reported seeing him traveling at 82 mph in 55-mph speed zone on S Hwy. 25. The deputy stopped the Silver Fiat SUV in the 16300 block of the roadway and detected the odor of raw marijuana when he made contact with Wilkerson, a sheriff's office report states.
The deputy asked Wilkerson for his driver's license and vehicle registration and noted that he appeared to be nervous and his hands where shaking. The deputy asked him if he had smoked marijuana recently and he stated that he had his medicinal marijuana card with him, which had his personal information and photo on it, the report says.
The deputy ordered Wilkerson to step out of his vehicle after he started reaching around inside it. He patted him down to check for weapons and felt a small, hard object in his left front pocket that Wilkerson identified as his "scale," the report says.
After Wilkerson was handcuffed and placed inside a patrol cruiser, deputies search his vehicle and found:
An Orlando Magic cup holding three empty tubes labeled "MUV Pre-Roll" with Wilkerson's name on them;
Five containers with Wilkerson's name on them that were sealed. Four were labeled "Pre Roll Embers Hybrid" and one was identified as "Embers Drift;"
A black scale;
Several vaping devices near the center console area, three of which contained a brownish liquid that field-tested positive for THC content;
Two packages that were labeled "moon rockets," which were a pre-rolled "blunt" labeled as 1,000mg of THC content;
A "Sunshine Exotics" package containing a green leafy substance that tested positive for marijuana;
A small, open black bag on the passenger seat that contained several boxes labeled "Cannabis Infused Gummy Formula," including 15 "Indica" and three "Hybrid" flavor marijuana edibles;
A "MUV Shatter" package that was opened and contained suspected THC wax, which was labeled "Colorado Durban Sativa;"
A package of clear blue plastic baggies that were labeled "Blue Apple;"
Several THC cartridges inside the center console;
A taped-shut United States Postal Service cardboard box without a shipping label that contained four Pringles potato chip containers that each held two THC cartridge boxes.
The cartridges were labeled as "OG Indica," "Haze Sativa," "Skywalker Indica" and "Glue Hybrid;"
A small vacuum-sealed baggie labeled "QWC" that had a small amount of a substance that tested positive for marijuana in it;
A small glass jar in the glove compartment that had suspected marijuana residue inside it;
A small empty glass container in the glove compartment that contained suspected THC oil residue;
A small black grinder and a multicolored glass pipe that contained suspected marijuana residue in each;
A Geryon vacuum sealer on the passenger-side floorboard and a "moderate" amount of empty vacuum-sealed bags throughout the vehicle;
Several suspected marijuana buds behind the driver's seat and in-between the center console;
A black grocery-style bag underneath the front passenger seat that contained two Ziploc baggies with a moderate amount of a substance that field-tested positive for marijuana;
A food-saver vacuum-sealed bag that contained a substance that tested positive for marijuana;
A locked plastic tote in the back of the SUV that contained a grocery bag with 25 THC oil cartridges; and
Folded aluminum foil in the glove compartment that contained a perforated sheet of stamped cartoon characters that tested positive for LSD.
The marijuana found in Wilkerson's vehicle weighed approximately 222.5 grams and the LSD weighed one gram. After being read his rights, Wilkerson declined to speak with deputies and was transported to the Marion County Jail, where he was charged with possession of LSD, possession of marijuana more than 20 grams and possession and/or use of drug equipment. The Florida State graduate and former Villages High School band member was released early Wednesday afternoon on $5,000 bond and his next court date hasn't yet been set, jail records show.
On Sunday, one of Wilkerson's fellow graduates, 20-year-old Monica Elaine Racy, was arrested on multiple charges of drug possession with intent to distribute and transported to the Sumter County Detention Center. The clinical research assistant at the University of South Florida in Tampa was pulled over after her gray 2018 Volkswagen Jetta swerved into the path of a Sumter County sheriff's deputy's vehicle on County Road 229 south of County Road 462.
Prior to the traffic stop, Racy had been paced driving 65 miles per hour in a 45-mph speed zone on CR 462. The former Properties of The Villages employee was released Monday on $24,000 bond.