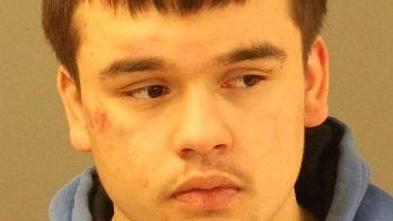 https://cannabisexaminers.com/wp-content/uploads/2020/05/5e7a496c62164.image.jpg
A drug deal between a teen seller and his girlfriend's cousin for 6 grams of marijuana went sour when an argument began over whether it was the correct amount.
The dealer's friend was nearby during the March 12 altercation and fired eight shots at a car as it drove away, Omaha Police Detective Ryan Hinsley testified Friday.
Three bullets struck the car's bumper, but one hit Daheem Conley in the back of the neck and his spinal cord. The 16-year-old was taken to a hospital, where he was placed in a medically induced coma. He died six days later.
The alleged shooter, Jaydin Smith, and the alleged seller, Demitrius Dagosta, both 17, will stand trial on charges of second-degree murder, use of a firearm to commit a felony and possession with intent to distribute marijuana.
The preliminary hearing held Friday at the Douglas County Courthouse was routine except that it was held during a pandemic. All 15 people in the courtroom — which included Judge Craig McDermott, his bailiff, four attorneys, Hinsley, three deputies, Dagosta, Smith, two relatives and a reporter — were required to wear a mask.
Hinsley testified about what happened March 12, just before the coronavirus outbreak shut down the city.
With Smith, Dagosta went to a friend's home near 39th Street and Ellison Avenue. The three of them drank beers and passed a 9 mm Smith & Wesson semi-automatic handgun among them.
Hinsley said the friend told police that Smith and Dagosta went outside for the planned marijuana sale to Conley.
Conley and four friends had arrived in a 2003 Pontiac Bonneville, and Conley was sitting in the back, behind the driver's seat. Dagosta went to Conley's door and sat halfway in and halfway out. An argument arose because Conley didn't believe the amount of marijuana was 6 grams, the quantity they had agreed on.
Witness statements weren't clear on how the argument ended, but the occupants of the car told police they were shot at as they drove away. Friends realized Conley had been shot and drove him to Immanuel Medical Center.
Smith and Dagosta, Hinsley said, ran into a side door of their friend's home and threw a backpack containing a gun and 162 grams of marijuana in a back room.
Dagosta told his girlfriend that a drug deal had gone bad with her cousin and that Smith shot at the group as they drove off, Hinsley testified. Smith later messaged Dagosta to break into his friend's home to retrieve the backpack, Hinsley said, but police had already found it.
Dagosta was taken into custody at the Douglas County Youth Center. Hinsley, who already had identified Smith as a suspect, looked for any jail calls between Dagosta and Smith. Hinsley instead found a call from Smith to another youth inmate.
In that call, Smith, in a coded message, spoke about the shooting, saying he flicked a cigarette at someone's head.
"He sings about it, he laughs about it," Hinsley testified.
After Smith was arrested, he first told police he was having sex with his girlfriend and was not there during the sale. Then he said Dagosta had the gun and was the shooter. Finally, Smith said he saw that the driver had a gun and was trying to rob Dagosta, so Smith shot in self-defense.
All four occupants of the car said no one had a weapon with them, and police found no weapon when they searched the car. The person who drove to Immanuel was wearing a GPS bracelet, and data from that bracelet showed he drove from the scene of the shooting to the hospital in five minutes. Officers retraced the route, Hinsley said, and it took them seven minutes.
"There's no indication that they stopped to get rid of a gun," Hinsley said.
In Conley's possession was a small bag of marijuana from the sale. It weighed 5.6 grams.