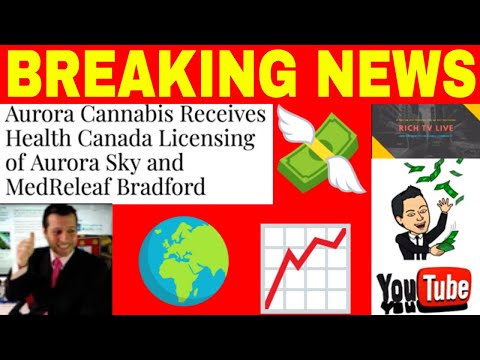 https://cannabisexaminers.com/wp-content/uploads/2019/02/4309/aurora-cannabis-receives-health-canada-licensing-of-aurora-sky-and-medreleaf-bradford.jpg
Aurora Cannabis Receives Health Canada Licensing of Aurora Sky and MedReleaf Bradford – RICH TV LIVE – FEBRUARY 25, 2019 – Aurora Cannabis Inc. (the "Company" or "Aurora") (NYSE: ACB) (TSX: ACB) (Frankfurt: 21P; WKN: A1C4WM) today announced that both its Aurora Sky and MedReleaf Bradford facilities are now fully licensed by Health Canada for the production and sale of cannabis and cannabis derivative products.
The rapid scale-up of our production capacity – with our Sky and Bradford facilities specifically adding over 128,000 kg per year in capacity – is resulting in significant increases in product availability across our domestic medical and consumer, as well as our international market segments, over the coming months.
Terry Booth, CEO of Aurora
Current production at Aurora Sky, with recent harvests exceeding target yields, validates our production philosophy and our investment in high-tech, highly automated facilities. MedReleaf Bradford employs best practices identified during the integration of the Aurora and MedReleaf organizations, and is consistently delivering exceptional yields and high-quality product that has resonated well in both the medical and consumer markets.
Aurora Sky
Located at the Edmonton International Airport in Alberta, Aurora Sky is the Company's first "Sky Class" facility. Aurora Sky is designed to deliver high quality, consistent and highly cost-efficient cannabis cultivation. At 800,000 square foot, the facility delivers massive scale, incorporates state-of-the-art technology, and leverages a high degree of automation to deliver target production costs of well below one dollar per gram. With the entire facility's cultivation space now licensed by Health Canada, the Company anticipates the facility to be fully planted in March 2019, with the full impact of product available for sale to be realized by the end of June 2019.
MedReleaf Bradford
Located in Ontario, MedReleaf Bradford is a 210,000 square foot high-tech production facility built to EU GMP specifications which features 17 independently climate-controlled grow rooms. Designed for large scale, hang-dried, hand-manicured production, 13 of the flower rooms are currently in production to service the consumer and medical markets. With the facility's cultivation space now completely licensed, Aurora anticipates the facility to be fully planted by early April 2019, reflecting a production capacity of 28,000 kg of high-quality cannabis per annum.
Subscribe – https://www.youtube.com/c/RICHTVLIVE
Visit – http://www.richtvlive.com/ a FREE community for stocks, sports, travel, and trending topics. #richtvlive #auroracannabis #education
https://t.me/joinchat/FR1YMRfXZdpX2bR_D3tJAw
Join the RICH TV LIVE FREE Social Media Community – Download the Amino app on your phone or computer and follow the link – https://aminoapps.com/c/RICHTVLIVE/home/
RICH TV LIVE Clothing – https://teespring.com/stores/rich-tv-live
ILL KIDD Playlist – https://www.youtube.com/playlist?list=PLiBGEhbXkQPCHTZsUlx-GxSGgsCLUSKJO
Popular Uploads – https://goo.gl/tbvXGg
Most Recent Upload – https://goo.gl/unKXBy
YouTube Channel Page – https://goo.gl/yUdG7w
Subscribe – https://goo.gl/q2tLnn
Rich TV Live Playlist – https://goo.gl/e116JF
RICH TV LIVE TOP 10 STOCKS Playlist – https://www.youtube.com/playlist?list=PLiBGEhbXkQPCfeYmBKHyXXu8dZc3YkkbW&disable_polymer=true
Disclaimer
RICH TV LIVE company profiles and other investor relations materials, publications or presentations, including web content, are based on data obtained from sources we believe to be reliable but are not guaranteed as to accuracy and are not purported to be complete. As such, the information should not be construed as advice designed to meet the particular investment needs of any investor. Any opinions expressed in RICH TV LIVE reports company profiles or other investor relations materials and presentations are subject to change. RICH TV LIVE and its affiliates may buy and sell shares of securities or options of the issuers mentioned on this website at any time.
Investing is inherently risky. RICH TV LIVE is not responsible for any gains or losses that result from the opinions expressed on this website, in its research reports, company profiles or in other investor relations materials or presentations that it publishes electronically or in print. Disclosure – https://www.richtvlive.com/feature-.html
We strongly encourage all investors to conduct their own research before making any investment decision. For more information on stock market investing, visit the Securities and Exchange Commission ("SEC") at www.sec.gov/Canadian CSA https://www.securities-administrators.ca/.