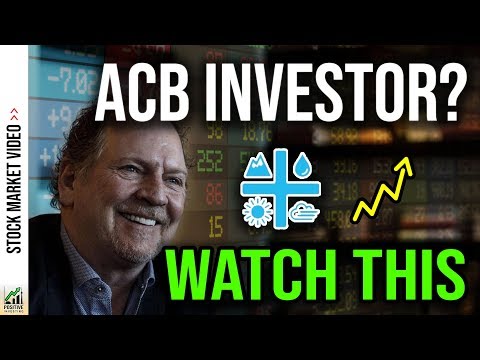 https://cannabisexaminers.com/wp-content/uploads/2019/02/4389/aurora-stock-a-buy-2019-5-facts-before-investing-in-acb-x1f525.jpg
ACB Stock or Aurora Cannabis Stock is a popular stock in 2019 – but is it a buy? In this video we go over 5 things that you should consider before investing in Aurora Cannabis Stock (ACB Stock).
🔴 *VIP Membership Group – 67% OFF!* 🔴
View my portfolio & every single trade I make! Join now ► https://goo.gl/SnYxc3
1) Medical Cannabis. Canada Legalized Marijuana in 2018, and since then, many investors have been extremely optimistic on how much money companies like Aurora, Canopy, or Aphria will now make. Recreation usage will definitely help push up sales, but the bulk of sales currently still come from Medical Cannabis. In the last quarter that aurora reported, they said that about 55% of total cannabis revenue and 48% of overall net revenue came from Medical Cannabis – this is a staggering number and is still the majority of their cannabis revenue. This can change over time, however, it's still important to see who else is competing in the medical space and how Aurora stacks up against them as this is still where the money is at for companies like Aurora. The good thing here is that ACB recognizes the importance of this and they even said that they "intend to continue prioritizing medical patients in Canada and globally where margins continue to exceed those achieved on the wholesale consumer market" – in other words, Medical cannabis is more profitable – so that's priority!
2) International Sales. We all know that the market in North America is massive – however, with the US still classifying marijuana as illegal on a federal level, this makes it difficult for ACB. As a result, ACB has expanded to Europe, and in countries like Germany, they are #1 – but this is a very small portion of their business. There's still A LOT of potential when we look at the international market, however, there's a lot of hurdles these companies have to jump over first to get there. ACB is doing a good job, and this could be another huge growth driver for them in the next few years – or could be something that never truly pans out – that's the risk.
3) Margins. ACB currently has gross margins of 54%, but the previous quarter had it at 70% – so it did decrease but is this temporary? It's still too early to tell. Now in their earnings they did give a few reasons on why this number dropped – which is I'm sure what investors were expecting some justification on. The biggest things were lower average selling price/gram of dried cannabis, excise taxes on medical cannabis, and a lower mix of higher-profit cannabis oil sales. Should you be concerned? I am. Why did they have to lower prices here? Was it because people aren't buying? Was it because competition offered better pricing? Are prices going back up or will they continue going down? If that's the case, then gross margin will keep going down as well. Other reasons outlined may just be 1 time expenses or short term issues including higher costs for new packaging requirements for recreational marijuana products and costs associated with their Aurora Sky facility which is completed.
4) Share dilution. Aurora tends to raise cash by issuing more shares. That may seem simple, however, it lowers the value of existing shares – and this is what dilution is. Aurora keeps adding more shares but it hurts their existing shareholders by doing so and as a result, the stocks performance suffers as the value of the shares have to adjust. The one piece of good news here though is that their CFO confirmed that they are in a good position to fund operations and expansion in 2019 so further dilution this year.
5) Production Capacity. Aurora currently produces about 120k kg/yr of cannabis from it's facilities, but once Aurora Sky is 100% in production mode (expected by end of march) their new production capacity should jump to more than 150k kg! With this, Aurora is on track to dominating the market with this production and supply, and as a result, can offer competitive pricing without hurting their margins.
#ACB #AuroraCannabis #Aurora #AuroraStock #Stocks
☀️ Referral Tools ☀️
TipRanks ► https://goo.gl/m8ZtAA
Webull (Free Stock) ► https://goo.gl/2H3VTo
Betterment ► https://goo.gl/jPPfBZ
Questrade (Canadian Broker) ► https://goo.gl/35yrS1
TradingView ► https://goo.gl/hWKJjh
☀️ FREE Facebook Group ☀️
Join the Positive Investing Facebook Group ► https://goo.gl/7iy59f
Please LIKE, COMMENT and SUBSCRIBE to support the channel – it helps the channel immensely! Remember to invest positively.
Disclaimer & Affiliate Link Disclose: The views & information in these videos is strictly for educational purposes only. I will not be held liable for your gains or losses incurred from the stock market. I'm affiliated with TipRanks, TradingView, Questrade, Webull and Betterment, however this does not influence my opinion on these platforms.
Subscribe for more videos like this: https://goo.gl/VkSGSU