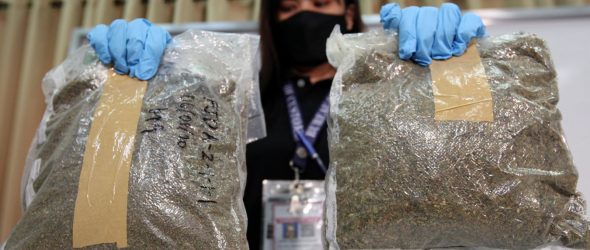 https://cannabisexaminers.com/wp-content/uploads/2020/06/IMG-11be8ca3b854f86e588ff613eb7a9405-V.jpg
By Betheena Unite
A shipment of artwork from California, USA turned out to be bags of marijuana worth P1.1 million, the Bureau of Customs said on Friday.
A total of 966 grams of marijuana were uncovered in a shipment declared as artwork on June 18 at the Port of Clark.
The prohibited item was shipped from California and arrived at the port last June 9.
According to the bureau, it was subjected to strict profiling of documents and x-ray examination. During physical examination, instead of the declared items, two vacuum-sealed clear plastic packs of suspected fine kush weeds were found inside the package.
The shipment was also subjected to K9 sniffing which indicated the presence of illegal drugs. Chemical analysis by the Philippine Drug Enforcement Agency (PDEA) later confirmed that the shipment is indeed marijuana.
Two other shipments containing a bottle of CBD Oil and six tobacco rolling papers "which likewise positively resulted from the presence of marijuana" were seized by Customs agents.
The seized items were turned over to the Philippine Drug Enforcement Agency (PDEA) on June 18 for disposition.
Warrants of Seizure and Detention were issued by District Collector Ruby Alameda against the shipments for violation of Sections 118 (g), 119 (d) & 1113 (f), (i) & (l) of R.A. No. 10863, the Customs Modernization and Tariff Act (CMTA) in relation to Republic Act No. 9165, the Comprehensive Dangerous Drugs Act of 2002.
The Port of Clark also seized P13.2 million worth of marijuana last March, bringing the total to12.535 kgs of illegal substances seized by the port in 2020.