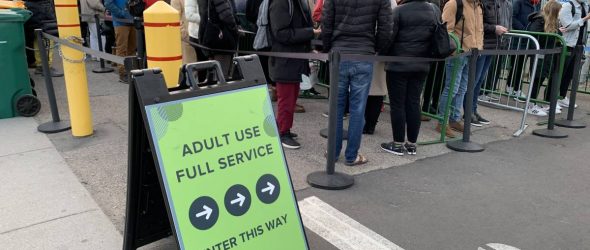 https://cannabisexaminers.com/wp-content/uploads/2020/03/img-1200.jpeg
Some Massachusetts residents are preparing for the coronavirus pandemic by stockpiling supplies — emptying grocery store shelves, stacking up cans of black beans in their cupboards and, apparently, buying a lot of marijuana to make it through a potential extended self-quarantine period.
In Brookline, marijuana dispensary New England Treatment Access has eliminated all walk-in orders due to a high volume of customers, and will now only serve customers who place orders in advance. "In light of the current environment, we will remain open," an announcement on the NETA website reads, "but will move to Reserve Ahead only starting on Saturday."
Inside the Brookline store, employees wear latex gloves, and bottles of hand sanitizer and disinfectant spray sit beside each checkout station. The process is efficient, a quick in-and-out, as compared to the massive lines seen snaking around the parking lot of the shop in the past few days, according to NETA employees.
For customers like Mary K. Murray, purchasing a few months worth of marijuana products is the easiest way to manage her chronic hip pain, when other medications might be harder to come by. "I can't stockpile my so-called traditional medications that are issued by a pharmacist at CVS or Walgreens," Murray says, standing outside the NETA exit. "But I feel way more confident in my ability to take care of myself through the purchase of cannabis, through medical marijuana products, because I can do that myself."
Murray says she's frustrated, because while she's relieved to be able to buy cannabis as a medical marijuana patient, she finds access to her prescriptions much harder due to complications with her health insurance. "Now we're in a state of emergency, and I don't know if I will be able to get to the pharmacist or to my next doctor's appointment to get that prescription renewed," she says. "It's definitely making me anxious, but having the ability to purchase the amount of marijuana and cannabis products that I'm going to need is essential to addressing how I'm going to stay safe."
The state's Cannibis Control Commission is similarly concerned about maintaining supplies for medical marijuana patients. In a bulletin issued Friday, the commission said "Medical Marijuana Treatment Centers that offer patient delivery may consider the promotion and geographic expansion of their service and remind patients of the ability to acquire up to a 60-day supply."
Some customers leaving NETA find themselves in less serious circumstances, though still feeling a general sense of anxiety about having enough marijuana to last through the next few weeks, should the shops close down or they get stuck at home.
John Wilson just got notice that he'll be working from home in Wellesley for his commercial real estate firm, so he came to get supplies while he still could.
"I came here definitely just to load up on it as much as possible, because it seems like people are looking to stay as quarantined as possible," Wilson said. "The initial scare was like, all right, let's grab as much as we can right now, because I don't think there's going to be too much longer till they start shutting everything down."
Jamaica Plain resident Drew Ward had an apartment meeting with his roommates once they received the news that they'd all be working from home for the foreseeable future. "Well, we got up this morning and we divvied up the list of things we need," he said. "Rice and beans is one person, liquor's the other, and I'm weed. We thought we'd get here before they shut down, too."
A representative from NETA says the facility is being cleaned overnight and daily in response to concerns about the virus, and while they plan to remain open, they are adjusting as necessary. For customers, concerns about about a lack of toilet paper or bottled water seems to be extending to marijuana as well.
"I definitely feel the anxiety," Dedham resident Harrison Thrasher said. "I don't want to be caught without my basic supplies."
Thrasher works in the hospitality business, which has been negatively impacted as a result of the spread of the virus. He says he's stocking up on everything, just in case things get worse. "At the bare minimum, I need food. I need everything like that. But you know, if I'm gonna be out of work and business is nothing, I want to be able to relax a little bit… and the news isn't exactly helping matters."
At Pure Oasis in Dorchester, the first legal marijuana dispensary the city of Boston, a long line stretched out the door on Saturday. Co-owner Kobie Evans says he's heard "a lot of chatter" about coronavirus from customers, but since the business opened less than a week ago, it's hard to attribute the rush to just that. "People have been mentioning it, and people have been saying they're stockpiling," Evans said. "But it's our first Saturday, it's St Patrick's Day weekend, and it's beautiful out, so I don't know."