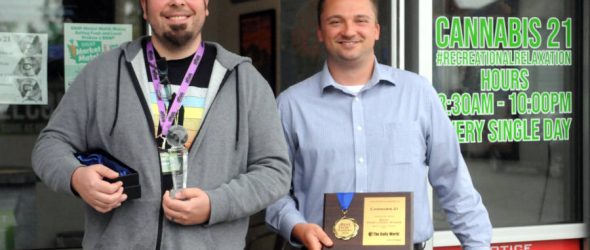 https://cannabisexaminers.com/wp-content/uploads/2020/08/22475674_web1_TSR-Best-of-Overall-Cannabis21-ADW-200820.jpg
Tens of thousands of votes were received and tabulated. The verdict is in.
Of all the businesses receiving votes for The Daily World's "Best of Twin Harbors" awards, Cannabis 21 came out on top, not only being named "Best Marijuana Business" but also taking home the presigous "Best Overall Business" award for 2020.
"We're super thankful and humbled to the community," said Adam Bakotich, who along with Angela Scott and Arnie Bossard owns the business located at 1000 East Wishkah Street in Aberdeen. "My mentality is to do good, be good and don't take advantage of anyone to do it."
That mentality has led to massive success for the business, with approximately 700 customer per day coming through the doors since opening in 2015.
Bakotich also gave credit to his staff, commenting on their experience and professionalism.
"Now I'm just in the way," he said. "They are better at their job than I could be."
The Daily World publisher Mike Hrycko stated the importance of local businesses supporting each other.
"That's everything in this community," he said. "Local businesses support us and we support them. It's a reciprocal relationship."
Hrycko added that the way Cannabis 21 has done business and conducted itself within the community is why they have seen so much success.
"I think Adam summed it up pretty well with his quote about doing good. It's manifested itself in what he's done here," he said. "They are doing something right and all I can say is keep it up."