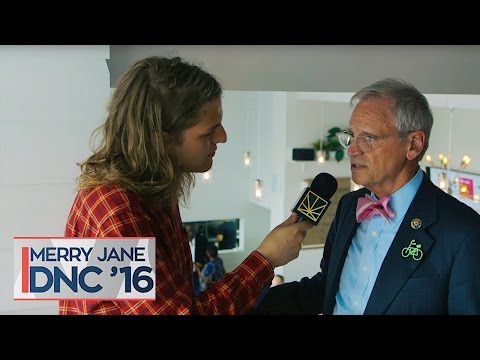 https://cannabisexaminers.com/wp-content/uploads/2018/12/2647/cannabis-politics-and-reform-earl-blumenauer-of-oregon.jpg
State marijuana policy has been revolutionized in recent years. 25 states currently have some form of legal marijuana, and many more are evaluating legalization. Still, all forms of marijuana remain illegal under federal law.
Congressman Earl Blumenauer has led the movement to legalize marijuana in Oregon since 1973. He's been a crucial proponent of legislation which decriminalized marijuana in the Beaver State, the first state in the United States to do so.
Blumenauer, born in 1948 in Portland, Oregon, attended Lewis and Clark College in the City of Roses. He was elected to the U.S. House of Representatives in 1996, where he successfully campaigned to legalize, regulate, and tax marijuana in Oregon in 2014.
The Congressman currently plans to travel to every state with a cannabis initiative to spread the message about how marijuana prohibition has failed. He did this ahead of legalization in Oregon.
Rolling Stone named Congressman Blumenauer Congress' "Top Legal Pot Advocate." Along with Jared Polis, the Congressman penned a report called, "The Path Forward: Rethinking Federal Marijuana Policy". In the report, the authors go over the history of marijuana prohibition in the United States.
The Congressman laments on his Congressional web page how 50% of those in prisons are there for drug related charges. "Millions of people have been caught for marijuana offenses, and over 660,000 are arrested each year for possession."
Get the Full Breakdown on MERRY JANE:
https://merryjane.com/news/cannabis-politics-and-reform-earl-blumenauer-of-oregon
MERRY JANE
https://www.merryjane.com
Follow us!
Facebook: https://www.facebook.com/merryjanemedia
Instagram: https://instagram.com/merryjane
Twitter: https://twitter.com/merryjane
Snapchat: @merryjanemedia
Subscribe to our channel: http://www.youtube.com/c/merryjane