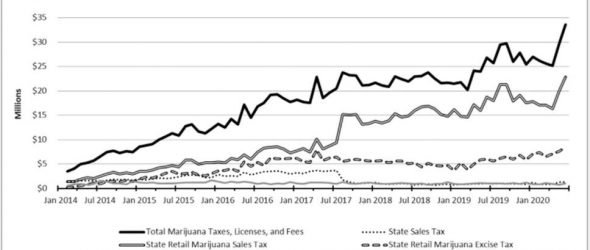 https://cannabisexaminers.com/wp-content/uploads/2020/07/5f21f8d808f6d.image.jpg
Published this month, Colorado Department of Revenue (CDOR) posted Colorado cannabis taxes, license, and fee revenue collected from February 2014, when pot sales began being recorded, to current as of July 2020. In total, during that time the state brought in $1,375,145,032. Additionally, overall sales in the state during the same time came to $8,567,179,368.
Taxes and tourism generated from the cannabis industry have helped the state undertake numerous improvement projects. Trinidad, specifically, was able not only to recover from the last economic recession back in 2008, but also be more prepared to tackle challenges such as the current pandemic. Earlier this year, City Council in Trinidad were able to set aside half a million that was used to help local businesses and residents; all money coming from tax revenues generated by the local cannabis industry.
Even with health concerns surrounding COVID-19 and travel, Las Animas was still able to pull in $6,559,828 in retail recreational sales and $47,156 in medical sales for the month of May alone. In 2019, the county reported $4,197,971 in retail sales and $64,389 in medical marijuana sales.
This June, the county collected a little under one million dollars in state retail marijuana sales tax ($920,234) according to CDOR numbers on their website, compared with $555,812 in sales tax for June of last year (2019).
In fact, the trend throughout the state is quickly climbing sales with numbers taking a jump around March, as shown in the accompanying graph illustrating sales starting in January of 2014.
While the reason as to why the numbers spiked so suddenly is still uncertain, circumstances being what they are has led some store owners to speculate people are 'panic buying' or stocking up before the shutdown happened. Now, facing a rise in COVID-19 numbers across the state, could this trigger another round of high sales?