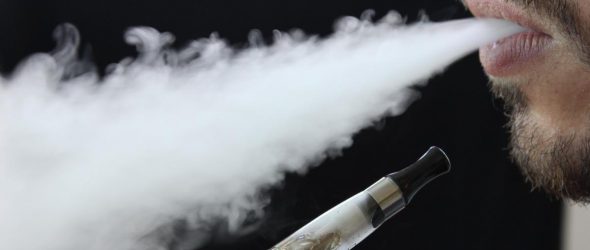 https://cannabisexaminers.com/wp-content/uploads/2020/08/vaping.jpg
Cannabis stocks ended the week on a mixed note, with The North American Marijuana Index up 1.35 points to 113.95. US pot stocks finished the trading week strong, gaining another 1.64 points at the closing bell to end things at 52.42 while across the border in Canada, investors weren't quite as lucky. The Canadian Marijuana Index fell 6.21 points on Friday, ending the week at 219.73.
The big news this week seems to be that the cannabis industry is recovering from last year's so-called vaping crisis, with various outlets reporting that vape use is increasing across the board. It's a decent sign for pot stocks worldwide, as many companies have invested heavily within the vaping sector. As the site Marijuana Stocks reported on Friday, although cannabis flower remains the number one consumer product, vaping has benefitted the market in many ways.
According to the site, the coronavirus pandemic seems to be lifting the vape market a bit as consumers grow wary of traditional combustible products. With COVID-19 attacking the lungs, more people are looking to avoid products that can irritate that part of the body, hence the rise in consumer interest in vapes. As reported yesterday, vape pens now account for nearly 16 percent of the Canadian market.
Investors looking to hop into the vape space now should focus on a few key players before the market explodes. Cronos Group (NASDAQ:CRON) focuses a lot of investments into derivative products these days thanks to an investment from Altria last year. The tobacco giant infused the company with $1.8 billion last year, and though there have been a few ups-and-downs since then, they seem primed to make a name in the vape game.
KushCo Holdings (OTC:KSHB) does a lot of work in the ancillary market, but make no mistake, the bulk of their revenue comes from vaporizers. Trump's trade war with China has hurt KushCo's vape sales in recent months, but with the upcoming election and the vape market set to take off, they are as close to a sure bet as there is in the market.
Other companies to look out for include Greenlane Holdings (NASDAQ:GNLN), who just announced $32 million in revenue, and The Supreme Cannabis Company (OTC:SPRW.F), one of the best buys out there for under $5 per share.
Yesterday's cannabis stock winners and losers
4Front Ventures Corp (FFNTF) gained $0.08158 per share, ending the day at $0.6665, a jump of 13.95 percent. Trulieve Cannabis Corp (TCNNF) rose $2.2907 per share to $25.06, a gain of 10.06 percent. TerrAscend Corp (TRSSF) jumped $0.3139 per share to $3.9339, rising 8.67 percent.
Sundial Growers Inc. (SNDL) fell $0.2505 per share to $0.4495, a loss of 35.79 percent. Zenabis Global Inc. (ZENA:CA) fell $0.025 per share to $0.11 for a loss of 18.52 percent. cbdMD Inc. (YCBD) fell again this week, losing $0.24 per share to $3.19, a decline of 7.00 percent.
Organigram sends dried flower to Israel
Organigram Holdings Inc. (NASDAQ: OGI) (TSX: OGI) announced that a shipment of bulk dried flower was sent to the Israeli company Canndoc Ltd. Canndoc is a medical cannabis producer and subsidiary of InterCure Ltd. According to a statement, Organigram will provide a guaranteed 3,000kg of indoor-grown dried flower product to Canndoc by December 31, 2021.
"We are proud to offer clients like Canndoc the quality of indoor-grown cannabis," Greg Engel, CEO of Organigram, said in a statement. "Our agreement with Canndoc reflects the value of our ongoing investment in state-of-the-art growing technology, and our stalwart commitment to consistency and quality."
In other news
For some reason, the cannabis community thinks Joe Biden will change his mind about legalization, even though he campaigned and won on a platform that didn't include it.
Cannabis might be legal in California, but Humboldt County is still eradicating grows. Over 32,000 plants were destroyed in a three-day operation.
Supreme Cannabis and KKE Canada have called it quits.