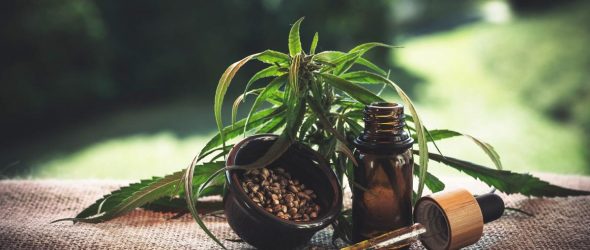 https://cannabisexaminers.com/wp-content/uploads/2020/08/cbd-44699871920.jpg
The SEC caught up to the Seminole Bingo game on Thursday as cannabis stocks plummeted, with The North American Marijuana Index falling 3.59 points to 111.40. It was terrible news for investors on both sides of the US-Canada border, as the United States Marijuana Index fell 2.22 points to 52.17, and the Canadian Index lost 2.29 points to hit 204.88.
Meanwhile, the cannabis industry's favorite three-letter organization, the Drug Enforcement Administration, released its new proposed rules for CBD and hemp on Thursday, a plan that will purportedly put the agency in line with the 2018 Farm Bill. According to a report in Marijuana Moment, the DEA noted that the rules have already been in effect and that publishing them now simply "codifies" them for the public.
Most importantly, for investors and the CBD industry at large, the DEA has changed the definition of marijuana under the Controlled Substances Act. It now excludes anything with less than 0.3 percent THC. On top of that, CBD drugs like GW Pharmaceuticals Epidiolex will be removed from Schedule V. The latter rule applies to all drugs approved by the Food and Drug Administration.
However, certain hemp-based products will still remain illegal.
"The definition of hemp does not automatically exempt any product derived from a hemp plant, regardless of the Δ,9 -THC content of the derivative," wrote the DEA. "In order to meet the definition of 'hemp,' and thus qualify for the exemption from schedule I, the derivative must not exceed the 0.3% Δ,9-THC limit."
"As a result, a cannabis derivative, extract, or product that exceeds the 0.3% Δ9 -THC limit is a schedule I controlled substance, even if the plant from which it was derived contained 0.3% or less Δ9 -THC on a dry weight basis," they continued.
The public now has 60 days to comment on the DEA's new plan. Still, according to Marijuana Moment, the DEA noted that because they conform with the hemp law that is already in place, and they have no discretion to change it, that comments are "unnecessary in this instance."
Cannabis stock winners and losers
Zenabis Global Inc. (ZENA:CA) rose $0.01 per share to $0.105, a jump of 10.53 percent. cbdMD Inc. (YCBD) gained $0.20 per share to $2.89 for a total gain of 7.43 percent. Terra Tech Corp. (TRTC) rose $0.0043 per share to $0.0923 for a gain of 4.89 percent. 
GrowGeneration Corp. (GRWG) fell $3.78 per share down to $18.24 for a loss of 17.17 percent. Green Growth Brands Inc. (GGBXF) dropped $0.0034 per share to $0.0255, a loss of 11.76 percent. Columbia Care, Inc. (CCHWF) fell $0.35 per share to $3.32 for a loss of 9.54 percent.
Humboldt County cannabis looking for comment
According to a report from local station KRCR News, Humboldt County's recently-completed Cannabis Marketing Assessment, developed in partnership with the Humboldt County Growers Alliance and other industry stakeholders, is looking for comment from the public. 
"Specifically, the draft report shows that leaders in the local cannabis industry see value in looking at a regional approach to marketing cannabis, similar in ways that regional wine makers and coffee growers have done," wrote the county in a statement. "The regional institutions in the assessment have been developed over many generations and the decisions have played a critical role in shaping the long-term social, economic, and environmental character of the communities they are in."
Comments will be accepted until September 21 and may be submitted here. 
In other news…
Neptune Wellness Solutions Inc. (NASDAQ: NEPT) (TSX: NEPT) recently announced the introduction of its new proprietary Mood Ring cannabis brand for the Canadian market. "Mood Ring is directly aligned with our strategy to move closer to the consumer and drive our growth with unique, high-quality and affordable health and wellness branded products," said Michael Cammarata, Chief Executive Officer of Neptune Wellness Solutions in a statement.
As if the economy isn't bad enough, California wildfires have claimed several cannabis farms according to a report from MJBizDaily. As per eyewitness reports, "It looks like a wasteland."
Dispensary thefts are on the rise in Portland, according to Willamette Week. "We're under siege pretty much," one owner told the site.