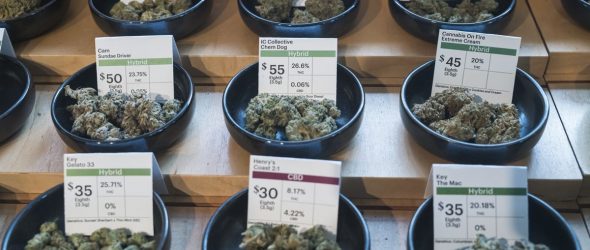 https://cannabisexaminers.com/wp-content/uploads/2020/09/1200x800.jpg
With a major piece of pro-cannabis legislation now likely to be heard after the U.S. Presidential election, the industry is turning its attention to a new hope: a domino effect in the Northeast.
The Marijuana Opportunity Reinvestment and Expungement Act, known as the MORE Act, won't go to the Lower House this week, and is instead expected to go to a vote sometime in the lame duck session between the Nov. 3 election and inauguration on Jan. 20. The bill would take marijuana off the list of controlled substances and expunge prior convictions for it. While the initiative has gained traction — it has more than 100 co-sponsors, including a few Republicans — it has become a victim of the electoral season.
But hopes remain high that major regulatory changes are coming within the next few years.
"The electability of cannabis is clear –- Americans overwhelmingly support this issue and members of Congress shouldn't shy away from it," said David Culver, a vice president at Canopy Growth Corp. Speaking during an online discussion last week on cannabis, Culver said that Democrats were concerned about the optics of reaching a decision on cannabis legislation before Covid-19 relief is approved.
He downplayed the concerns, citing the industry's potential to create jobs and give states a much-needed source of tax revenue. Erik Huey, a government affairs executive at lobbying firm Platinum Advisors, who spoke alongside Culver, added that politicians have a "moral imperative" to act, since studies show that Black people are disproportionately arrested for marijuana-related offenses.
Regardless of timing, the initiative's main obstacle would be a Republican-controlled Senate, so the industry is watching to see if Democrats can wrest control in November. Democrats have a majority in the lower house that they are expected to maintain in the next session.
Northeastern Dominoes
Still, the bill isn't the only way to move legalization forward. Since the pandemic, there's more talk about a domino effect in the Northeast.
It could go like this, according to investors and cannabis executives: If New Jersey passes an initiative to legalize recreational use this November, then Connecticut, New York, Pennsylvania and Rhode Island could follow shortly after. That's because states have an added incentive amid the pandemic to prevent cannabis users from crossing state lines and potentially spreading Covid-19.
Recreational use in New Jersey "would serve as more than enough of a catalyst" for the domino effect, Cowen & Co. cannabis analyst Vivien Azer said in a research note last week. Nearby states could legalize over a period of around two years, she said.
If this were to happen, it would put almost half of the U.S. population in states where recreational use is legal. As a result, this would boost companies' sales and lift the U.S. market for cannabis by roughly $6 billion to a total of $40 billion by 2025, Azer said. Multi-state operators like Green Thumb Industries Inc., Curaleaf Holdings Inc. and Cresco Labs Inc. would be big beneficiaries, she said.
Safe Position
The MORE Act is still likely to be approved by the House this year, Azer said in a Sept. 18 research note, calling support of legalization the "safe position" for Democrats — a major turnaround from 4 years ago.
While legalization would ultimately be good news for investors and companies, there's a catch, said Matt Hawkins, a founder at cannabis investment firm Entourage Effect Capital. If legalization moves too fast while many cannabis companies remain small, he said, big pharmaceutical or tobacco companies are more likely to deploy their sizable resources to build their own businesses and take over the sector.
If that were to happen, it could decimate the industry, he said in a phone interview. A more methodical march toward legalization, meanwhile, could let companies grow stronger.
"In a perfect world, it would be best for a lot of the companies out there to get larger so they're more attractive acquisition targets," he said.
Events This Week
TUESDAY 9/22
Cannabis Conference: Day 2 of a digital conference with weekly events until 9/29
Aurora Cannabis Inc. reports fourth-quarter earnings after market close
WEDNESDAY 9/23
MJ Unpacked: A virtual conference with BDSA focused on the Midwest and Oklahoma that runs through 9/24
WeedMD Inc. reports second-quarter earnings after market closes, call to take place next day at 10 a.m.
THURSDAY 9/24
Akerna Corp. reports fourth-quarter earnings before markets open
Supreme Cannabis Co. reports fourth-quarter earnings after market closes, call to take place next day at 8 a.m.