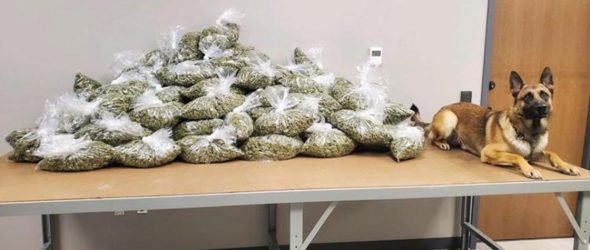 https://cannabisexaminers.com/wp-content/uploads/2020/04/5e8d5cf9e0c43.image.jpg
YORK – A case involving the discovery of 90 pounds of high grade marijuana has been bound over to District Court.
Carlos Oden, 39, of Chicago, Ill., has been formally charged with possession of a controlled substance, a Class 4 felony; no drug tax stamp, a Class 4 felony; and delivery of a controlled substance, a Class 2A felony. If convicted of all counts, he could be facing a possible maximum sentence of 24 years in prison.
According to the affidavit of probable cause filed with the court, a deputy with the York County Sheriff's Department was on regular patrol on Interstate 80 when he saw a vehicle exit the interstate and then fail to signal at a stop sign. The deputy stopped the vehicle on Road H and as he walked toward the front of the stopped car he said he could allegedly smell the strong odor of marijuana coming from the vehicle. And he saw very large black trash bags in the rear cargo area of the vehicle.
When troopers with the Nebraska State Patrol arrived, a probable cause search of the vehicle "which yielded 90 pounds of high grade marijuana in 90 one-pound bags. The driver, Oden, denied there being any marijuana in the vehicle. The passenger, Billy Glover (35, of Jacksonville, Fla.) stated he had a medical condition that restricted his ability to smell, therefore he did not know the marijuana was in the vehicle. However, Glover did state that he saw the large bags in the back of the vehicle and asked Oden what was in them, with Oden telling not to worry about it."
Arraignment proceedings are pending in District Court.