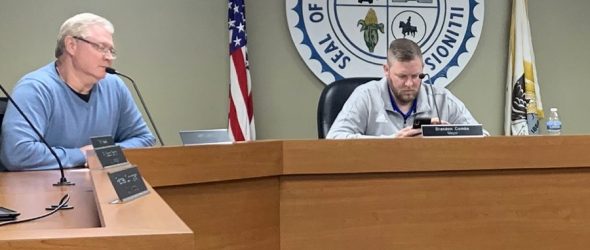 https://cannabisexaminers.com/wp-content/uploads/2020/03/0304_city_brock_web2-900x506.jpg
The Charleston City Council approved an ordinance implementing a maximum three percent tax on all retail sales of cannabis.
The tax will be imposed on all people engaged in the sale of cannabis unless said cannabis is purchased under the Compassionate Use of Medical Cannabis Program.
Currently the city has a moratorium in place on cannabis businesses until May 31, which is blocking cannabis businesses in the city.
Mayor Brandon Combs said he is not at liberty to say whether or not the city could potentially have cannabis businesses in the near future.
Combs said regardless of how the council may vote on having cannabis businesses later on, he plans to have an informational meeting on cannabis soon for those in the community who are interested in learning more about cannabis sales as well as general information about cannabis products.
Combs said the meeting would entail professionals giving the pros and cons of allowing cannabis products, like profits from taxing the products and how safe the businesses are and explain everything thoroughly to "get rid of the misnomers."
"When you don't understand it or you're in the dark about something sometimes you can be afraid of it and so I promised as the mayor to give our citizens some type of informational meeting and then allow them to ask questions and things of that nature," Combs said.
At the time the moratorium was put into place, the main reason given for having it was because city officials did not feel they had enough information to have the businesses.
Combs said he feels like the city is getting closer to having the information they want before making a decision on the businesses.
"We have been extremely diligent in gathering everything that we need, and I feel confident that the moratorium is definitely serving its purpose," Combs said. "…We've done our homework, (the moratorium) has definitely served its purpose."
Changes to the city code regarding business and license regulations on alcoholic beverages were also approved.
Two new licenses were added, a Class K special event license and a Class L special event hosted bar license.
Class K licenses allow the licensee to "sell alcoholic liquor for consumption on property owned by the city in connection with any festival, banquet, picnic, bazaar, fair or similar special event," and Class L licenses "shall be issued only for a private event to be held on private property in a non-residential zoning district by invitation to attendees and not open to the general public."
Changes to the special use permit licenses section will allow individuals and the city to get an unlimited amount of special use permit licenses.
During the meeting the annual city audit review was given by Kelsey Swing, a partner at Gilbert, Metzger & Madigan, LLP.
Two raffle licenses were approved during the meeting.
One was for the Cornerstone Christian Academy on March 28 at 7 p.m. at the Moose Lodge to raise funds to complete an onsite kitchen at the current facility and the other was for an event that already happened for the Charleston High School Trojan Booster Club on Feb. 28 at Charleston High School to raise funds for post-prom expenses.
Corryn Brock can be reached at 581-2812 or at [email protected]