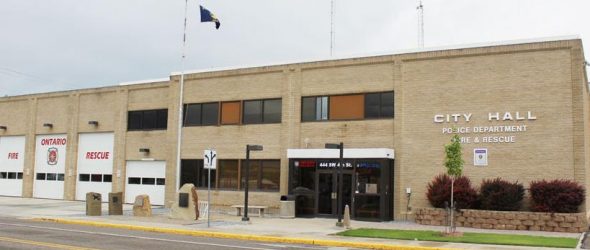 https://cannabisexaminers.com/wp-content/uploads/2020/06/59441877ab6c6.image.jpg
ONTARIO — Ontario Mayor Riley Hill, members of the Ontario City Council and other local entities are once again addressing Oregon lawmakers regarding the Marijuana Tax State Share Distribution formula and how Ontario is not benefitting like it could. On Thursday, the group (which includes Oregon Sen. Lynn Findley, R-Vale, Rep. Mark Owens, R-Crane, and Malheur County Economic Development) addressed a letter to House Speaker Tina Kotek.
Since July 26, when the first marijuana dispensary Weedology opened its doors, Ontario has been drawing customers locally and from across the Idaho border to make their purchases.
Despite the influx of business and traffic to match, Ontario will only be seeing a fraction of this revenue.
The formula, according to the letter, does not take into account the amount of Idaho customers entering Ontario to make a marijuana purchase.
"The majority of our sales are derived from Idaho customers. Those customers, however, are not considered in our population for the distribution formula. Our resident population is 11,485, so when 75% of the formula is based on Ontario's population, but our city services are being burdened by 3/4 of a million people from the Boise Market, it really puts a strain on our community. Based on the most recent sales data, we anticipate that we are seeing an additional 750-1,000 cars a day coming into and out of our city, straining the system. This generates an additional level of municipal services," the letter states.
Because of this, the letter claims that Ontario should be receiving $836,006 in State Marijuana Revenue Sharing, while the actual figure looks like $52,795.
Further clarification by Brown was given in a separate email sent later on Friday afternoon.
"Those are updated numbers from our most recent quarterly payment, but that is just the 1.7% state share that is supposed to go back to local governments. The states 17% would equal $49,176,823," said Brown.
This money is separate from the 3% local tax that is gathered. According to Brown, the city is expecting $1.4 million for the 19-20 fiscal year.
Brown said that the local tax imposed on purchases of marijuana products "doesn't have restrictions on it."
The letter goes on to note that Ontario is the largest city "in the poorest county in Oregon" and that over $750,000 is being sent to other cities across the state while "Ontario needs this money to help our community."
The letter suggested a solution in the form of introducing new language that would make the city of Ontario exempt from Measure 91 for a limited amount of time, referred to in the letter as a "sunset clause."
This language reads as follows:
"A city with a population exceeding 10,000 that is located in a combined Metropolitan Statistical Area of over 600,000 on the Oregon border with the State of Idaho, for purposes of financial impact, shall be exempt from the distribution formula of marijuana revenue sharing in Measure 91. Cities meeting these requirements shall receive the 10% state local revenue sharing for public safety based upon actual sales within that municipality. This exemption from Measure 91 will terminate on June 30, 2027."
In an email received on Friday afternoon, Ontario City Manger Adam Brown, explained what the only types of services that marijuana tax revenues can be used for.
"These would all have to go towards public safety, but it could be used for officers, mental health, perhaps homelessness resources, anything under the rubric of public safety," stated Brown.