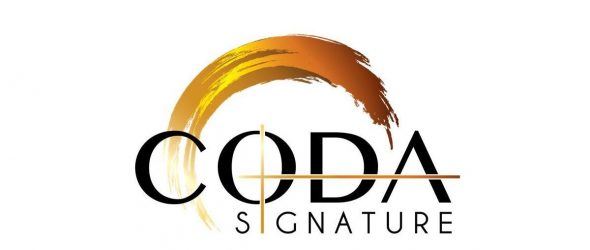 https://cannabisexaminers.com/wp-content/uploads/2020/02/Coda_Signature_Logo_Final.jpg
DENVER–(BUSINESS WIRE)–Coda Signature, maker of award-winning cannabis infused gourmet edibles, all-natural topicals and handcrafted concentrates, launched its newest line of distillate products in Colorado today.
Like Coda Signature's topicals and Fruit Notes, the new distillate line focuses on effects, from energy to relaxation. Available in Uplift, Balance or Calm, each half-gram vaporizer cartridge features a unique formulation of terpenes and cannabinoids. Of the six new distillate products, three are THC-only and three are blends of CBD and THC. The blends come in 2:1, 1:1, and 1:2 CBD:THC ratios.
The distillate expansion comes after Coda Signature's growing momentum in Colorado and successful launch in California. As Coda Signature extends from luxury edibles and topicals into more categories, the brand continues establishing itself as a leader in infused products.
"Coda Signature's success shows we can step into a new product category or market and bring the same level of innovation and excellence," said Marji Chimes, Chief Marketing Officer for Coda Signature. "With the expansion of our new distillate line, we continue to reach more consumers with the quality products that are synonymous with the Coda Signature brand."
Coda Signature's extraction team starts with carbon dioxide supercritical fluid extraction technology (CO2 extraction) to create the clean, consistent and pure CO2 cannabis distillate known for its quality and craftsmanship. The cannabis oil used for the distillate is the same quality oil used in all of Coda Signature's award-winning edibles and topicals.
The distillate line has been lauded both in the Colorado community and the national industry, most recently winning First Place in CBD Vape Pens & Cartridges for the Balance CBD Vape Cartridge at the 2019 High Times Colorado Cannabis Cup.
"We develop our distillates with care, using the latest technology to create the best consumption experience," said David Hand, Director of Extraction for Coda Signature. "My team is thrilled to answer the popular demand for Coda Signature products in Colorado with our new line of mood-focused distillates."
For a full list of the 800+ dispensaries in Colorado and California where Coda Signature is available, click here.
About Coda Signature
Coda Signature crafts premium cannabis-infused edibles, topicals and concentrates for medicinal and adult-use markets. Founded in 2015 to elevate the experience of cannabis the way music elevates life, the company has established itself as a leading luxury brand with products featuring bold flavor combinations and quality, natural ingredients. Coda Signature's products are available in over 800 dispensaries across Colorado and California, with planned expansion into other emerging markets in North America. Recognized as a product and manufacturing innovator, Coda Signature has received dozens of industry awards across all of its product categories including the 2019 California Emerald Cup; 2019 High Times Colorado Cannabis Cup; 2019 MJBizDaily Awards finalist in the U.S. Market Leader category; and Leaflink's 2019 Best-Selling Products list. The company holds licenses in Colorado (404-00507 and 404R-00134) and California (CDPH-10003091 and C11-0000027-LIC). To learn more about Coda Signature, visit www.codasignature.com.