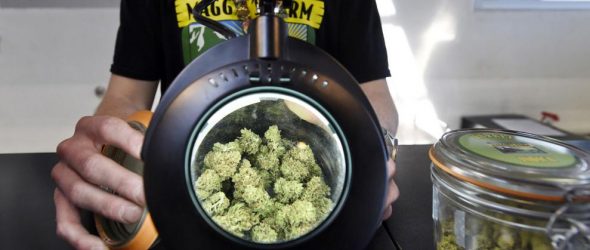 https://cannabisexaminers.com/wp-content/uploads/2020/07/5c648fce4d5e8.image.jpg
Colorado Springs residents could be voting this November on legalizing recreational marijuana sales, a step city leaders have shunned while others have embraced the added tax revenue. 
Councilwoman Jill Gaebler is proposing a question that would allow 24 medical marijuana dispensaries to swap their licenses and become recreational marijuana businesses.
The 24 recreational stores would be dispersed across the city, with a maximum of four in each council member's district, according to her proposal. She wants to start out with a small number of stores selected by a lottery and allow City Council to decide later if more stores are appropriate, she said.
Gaebler expects recreational marijuana taxes could raise $16 million to $18 million in additional city revenue each year. That's predicated on the council agreeing to impose an additional 12% tax on recreational marijuana sales, she said. 
 Medical marijuana generates about $3 million in tax revenue annually and it is not subject to additional city taxes on top of the 8.25% charged by the state, city and county on all goods. Recreational marijuana is subject to an additional 15% sales tax and 15% excise tax from the state. 
The added city marijuana taxes could help fill budget holes left by the fall in other sales taxes revenues because of the coronavirus. The city has already cut about $21 million out of its 2020 budget, said city spokeswoman Kim Melchor. 
"We need to find creative ways to increase our revenues and this is an obvious way to do that," Gaebler said.
The council has yet to determine what projects or departments would receive funding, but it would list what would receive funding in the ballot question, if it goes forward, she said.
Gaebler said she would dedicate funding to departments such as parks and public safety. In addition to providing revenue, the measure could also protect residents from dangerous product on the black market, she said. 
The council will discuss the question on Monday in a work session and could informally determine if it has enough support to go forward for a vote. Five council members would have to support the question.  
Recreational marijuana sales have been historically unpopular with city councils in the past. In 2013, the council voted to opt out of allowing recreational marijuana sales after they were allowed by an amendment to the state Constitution. Then in 2014, the council decided not to put the question of allowing recreational sales before voters. 
Despite the city's hesitancy to allow it, recreational marijuana is available in Manitou Springs, Pueblo, and Denver, which collect marijuana tax revenue from Colorado Springs shoppers, Skorman said. Medical marijuana is also available at 117 stores in town, Melchor said. 
"It's here and it's not going to go away," council President Richard Skorman said. "I can never imagine a time when the state's Constitution is going to be changed."
Mayor John Suthers said he strongly opposes legalizing recreational marijuana particularly because the city is competing to be the permanent home of U.S. Space Command. The federal government will consider the city's drug laws, he said, and Colorado Springs' competitors could use the city's decision to legalize marijuana against it. 
Legalized recreational marijuana could also bring in a much lower additional revenue than Gaebler estimates, while having a social cost on schools  and deterring businesses from moving in, Suthers said. 
Gaebler and Skorman disagree that legalizing recreational marijuana will discourage the military from selecting Colorado Springs as the home for Space Command. Skorman pointed out that other states with legalized recreational marijuana, such as California see plenty of military investment. 
Industry opposition
The Colorado Springs Cannabis Association opposes the ballot question because it would prevent a vast majority of shops from converting to recreational sales and could force 80% of them out businesses, said Brett Moore, a spokesman for the association. 
"You can't pick winners and losers by leaving some of the business owners behind," he said.  
The marijuana shops in town currently compete for the business of about 22,000 medical marijuana card holders. The new measure would only allow 24 of those businesses to serve all other customers over 21 years old and potentially some of the card holders, he said. 
The association believes voters would support a measure that would allow all the shops to convert, but the group would rather not see a ballot question at all than have a bad one, he said.