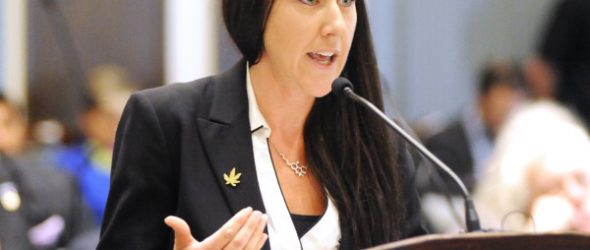 https://cannabisexaminers.com/wp-content/uploads/2019/11/MarijuanaBill02-MClery-.jpg
In the latest development in the ongoing vape crisis, the CDC announced last week that Vitamin E acetate, an additive used to dilute product and maximize profits, had been found in all of the lung fluid samples collected from individuals who had been diagnosed with e-cigarette, or vaping, product use associated lung injury (EVALI).
Citing escalating consumer safety concerns, local nonprofit, Delaware Cannabis Advocacy Network (Delaware CAN), is urging state legislators and public health officials to support HB110, a bill pending in the General Assembly that would legalize cannabis for adults 21 and older.
Delaware CAN, which has been advocating since 2013 to convert the illegal cannabis market to a safe, legal, and well-regulated industry that includes consumer protections and quality control standards, is not surprised by the latest crisis, but is expressing serious concern, calling the situation with tainted marijuana vapes a preventable public health issue that they have been warning legislators and other officials about for the past six years.
In October of 2017, the group presented and submitted 15 pages of consumer safety recommendations to the Adult Use Cannabis Task Force, detailing a wide range of protections and purity standards, including requiring organic cultivation, rigorous product testing for contaminants, and comprehensive package labeling.
The Division of Public Health also submitted product safety considerations to the task force that included organic cultivation, and product testing and labeling recommendations that were similar to those the advocates proposed.
According to the Substance Abuse and Mental Health Service Administration, 14.9%, or approximately 125,000 Delaware adults, consume cannabis, but without legalization, they must resort to the illicit market with its inherent risks. Delaware CAN likens the vape issue to tainted "bathtub gin" that killed many citizens during alcohol prohibition, and they fear the problem may only get worse due to the large number of cannabis consumers in the state.
While cannabis and cannabis products without additives are safe, absent necessary consumer safety protections, which have been included in HB110, consumers do not know if the product they are getting on the illicit market is free from contaminants, drugs, or even toxic substances. We have been calling for immediate safe access to laboratory-tested cannabis and cannabis products, with regulations and robust consumer safety provisions that are far more stringent than tobacco or nicotine vape regulations. We need our leaders to take action to protect a rather large demographic and end this preventable problem.
HB110, the Marijuana Control Act, was reintroduced in May 2019, after the previous version received simple majority support, but failed to clear the supermajority vote needed to pass the measure last year. The current version of the bill includes language that establishes quality control standards by prohibiting toxic or addictive additives, prohibiting non-organic pesticides, establishing rigorous labeling standards, and requiring laboratory sample testing for residual solvents and contaminant testing for pesticides, dangerous molds and mildews, filth, harmful microbes, poisons, toxins, and harmful chemicals.
According to a 2018 University of Delaware Poll, 61% of Delaware citizens support taxing and regulating cannabis like alcohol.
The CDC reports more than 2000 confirmed or probable cases of EVALI across 49 states, resulting in 24 deaths, including one in Delaware. Approximately 82% of the reported cases involved marijuana vapes, 62% were related to nicotine-containing products, and nearly all cases have involved illicit-market product.
Delaware Cannabis Advocacy Network is an all-volunteer, citizen-led, grassroots advocacy group that has been lobbying to remove all criminal and civil penalties for cannabis possession, initiate criminal justice reforms for those adversely affected by cannabis prohibition, and replace the current and dangerous illicit cannabis market with a safe, legal, and well-regulated industry. For more information go to DelawareCannabis.org.
Zoë Patchell is executive director of the Delaware Cannabis Advocacy Network.