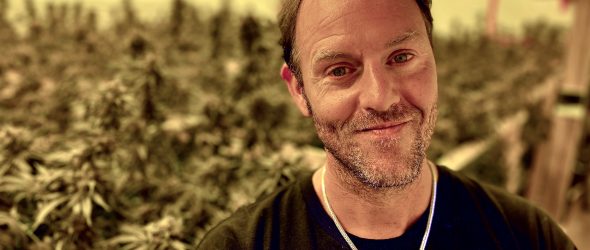 https://cannabisexaminers.com/wp-content/uploads/2020/03/20-03-05_quadra-pot-micro-cultivation_-scaled.jpeg
Probably one of the coziest public information meetings ever to occur around a potential marijuana production facility took place on Quadra Island Wednesday evening.
Shane Hedefine of Quadraponics Cannabis Inc. hosted the information session at Quadra Community Centre to present details about a proposed indoor micro-cultivation marijuana project slated for the island's industrial park.
Hedefine is the first applicant to the Strathcona Regional District (SRD) to apply for rezoning for marijuana cultivation since the federal government legalized recreational cannabis in October 2018.
"Nobody else has done it, I'm the first. It's taken me 14 months just to get to this point," he said.
Quadra, a small island with a population of approximately 3,000, is part of the Discovery Islands archipelago wedged between Vancouver Island and B.C.'s mainland.
Approximately 20 residents attended the meeting. The majority were seniors and already on a first name basis with Hedefine, 46, who has lived on Quadra his entire life.
The meeting started off with someone suggesting Hedefine should probably stand up and address the audience rather than sit on a chair in the front row chatting to people individually as they as asked questions.
The information session was the initial step of in a zoning amendment process for a 400-square-metre facility on a 2.5-hectare lot at 687 Industrial Way.
However, under the micro-cultivation licence, only 200 metres squared can be dedicated to growing, a canopy of approximately 400 plants, said Hedefine.
The rest of the building would be dedicated to drying, packing and other operational functions.
Health Canada created micro-cultivation licences at the B.C. government's request to lure existing small, underground growers without criminal records into legal pot production.
Hedefine told residents he must get the rezoning and build the facility to all federal requirements before being granted the micro-licence from Health Canada.
"Think of it as a craft brewery of marijuana production," Hedefine told his audience.
Hedefine argued the proposed site was ideal, located at the back of the industrial park off West Road, away from schools on a cut woodlot surrounded by forest, but with road access and parking.
For the most part, residents seemed unperturbed by the idea of pot cultivation on the island.
Hedefine fielded a lot of curiosity questions about cannabis itself, what part of the plants were used, how long they took to grow, how and what types would be grown.
At one point Hedefine popped open a sealed tuna-can-sized container filled with pot and passed it around for inspection.
"It's sure different from what we used to smoke in the '60s," said one senior peering into the can.
People on Quadra and neighbouring Cortes Island have been growing cannabis underground for decades, and have a reputation for quality product, Hedefine said .
A cadre of talented, passionate and local growers is nervous but excited about possibly stepping out of the shadows into legal, public production.
"It's as much a part of our [island] culture as it is for Rastas," he said. "It's just not a religion. There are people who are way more talented growers, that if I can make this happen, will come out of the woods. When some of these guys walk into a room, the plants lean toward them."
Residents' questions about the project focused on potential smells, security, whether the project was environmentally friendly, composting, pesticides and water use.
Advances in technology and the project's small size would mean it would have a light ecological footprint in comparison with large standard cultivation licences that grow 40,000 plus plants, Hedefine said.
The facility will be completely contained with an air recycling system and charcoal filters to eliminate odours.
And it would employ rainwater collection and reusing water from dehumidifiers conserve water.
New LED growing lights also mean a reduced draw on electricity, he added.
Security requirement and would have to meet the stringent federal requirements of the licence, he said.
What's more, fertilizer regulations for the growers are stricter than what is in place for people in their private gardens, he said.
Similar operations exist on the island already, but because new technology is allowing people to grow off-grid, nobody is aware they are there, Hedefine said.
"Everything is done inside in a low-impact way. We even plan use beneficial bugs."
One resident worried that in the future a large corporation could buy out the micro-licensed facility and set up a massive operation on the island.
If somebody bought his business, Hedefine said, the site would only be zoned for micro-cultivation, any other use would trigger a new application process and come before the public again.
Beyond ecological advantages, he outlined the advantages craft pot producers versus large cannabis cultivation companies.
The big players are losing money and contracting due to a lack of dispensaries, oversupply of legal but poor-quality weed, coupled with low demand due to a still flourishing underground market, particularly in B.C., he said.
On March 4, the same day as the information session, Canopy Growth Corp. laid off 500 workers, shut down two of its biggest greenhouses in B.C.'s Lower Mainland and announced plans to shutter a third in Niagara-on-the-Lake, Ont.
With a mixture of curiosity and concern, residents at the meeting questioned Hedefine about the risks of investing cannabis production with the current market.
"My whole strategy is the opposite of Canopy," he said. "It's to start small and grow quality product."
Jim Abram, Strathcona Regional District (SRD) director for Quadra Island, attended the meeting.
"In my own personal opinion, the industrial park would be an acceptable place," Abram said. "But whether it's a good place, ultimately, that's going to depend on the neighbours and businesses around it. The question is does it have social licence? That will evolve at the public hearing and will be part of the consideration by the directors."
Abram expressed concern that the SRD planning department appeared to be proceeding with the application by amending the existing bylaw rather creating a specialized zone for cannabis production.
Amending the entire industrial zoning bylaw will create confusion; whereas a specialized zone for cannabis cultivation would clearly spell out requirements, he said.
"The creation of specialized zones is a regular occurrence [in the SRD]," he said. "It's important for clarity and ease for the applicants, general public and the regional district, or any entity who wants to understand this."
SRD planner Mary Jo Van Order, file manager for the application, said the micro-cultivation project was well suited to the proposed industrial zone.
"The approach we're taking is cautious positive optimism," Van Order said, "because other areas are just saying no, but we're saying let's take a look at this and proceed carefully."
Whether the SRD proceeds with an amendment to the bylaw, or by creating a specialized zone, will be resolved internally, she said.
"If there's a big change, we'll go back to the community. Because it's a new use, we're still sorting out how to regulate it."
Planning staff will now prepare a detailed report for the board of directors, who will give the amendment proposal a first and second reading before it goes to formal public hearing.
Hedefine ended the information meeting telling people he wanted to use local expertise and employees to grow pot on Quadra.
"Why would I go and grow for a big company like Canopy when I can grow here on the island I grew up on?" he said.
"I love growing. It's botany and science, and we're all just trying to live the dream here on our own island."