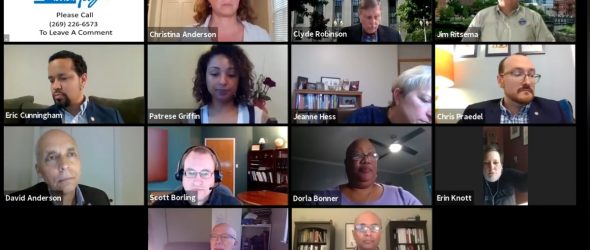 https://cannabisexaminers.com/wp-content/uploads/2020/05/meeting_05_18.jpg
The approved recreational marijuana ordinance will now go into effect on Thursday, May 28.
by Jeana Gondek
KALAMAZOO, MI (WKZO AM/FM) — The sale of recreational marijuana in the city of Kalamazoo has been approved by city commissioners as of Monday evening.
During a virtual meeting, commissioners discussed the business zoning ordinance and two resolutions for permit fees and their social equity policy that have previously been discussed in a series of public meetings.
The ordinance amendments permit 8 different types of recreational marijuana establishments in the city:
Grower (the number of plants permitted in each class is different for adult use than three medical)
Processor
Safety Compliance (testing laboratory)
Secure Transport (transportation services)
Retailer (note that for medical marihuana the shops were called provisioning centers)
Microbusiness: An establishment that can grow up to 150 plants, process the plants, and sell the product on site.
Excess Grower: A license which gives a grower the permission to have a very large grow operation through the stacking of multiple grow licenses.
Designated Consumption Lounge: A commercial business which allows the consumption, but not the sale, of adult use marihuana.
Businesses except for laboratories would have to be placed 1000 feet away from existing K-12 school buildings and 500 feet away from daycare facilities.
Commissioners had previously heard complaints from some citizens that the zoning ordinance should also keep them away from churches, parks and residential areas, and not just schools and daycare centers.
As a result, amendments were created during the meeting to keep these facilities away from playgrounds and youth centers, with safety compliance laboratories still being exempt from the criteria. This measure was also approved by the board.
City Planner Christina Anderson says the proposed ordinance could create about 38 new retail sites alone, but that is assuming the properties would be available for sale and that no other marijuana businesses are nearby.
The social equity program was one of the reasons the recreational marijuana process was delayed. It is meant to help residents who are looking to join the marijuana industry but have been disproportionately impacted by marijuana enforcement in the past.
The policy calls for a 25% reduction in the city permit fee of licensing fees for city residents living in the Northside, Edison and Eastside neighborhoods as well as those with past marijuana-related convictions as long as they do not involve distribution to a minor.
During a meeting in early May, City Attorney Clyde Robinson praised their social equity policy, "My impression is that, with the possible exception of the City of Flint, none of them are as robust as the City of Kalamazoo's. Based upon my review of various other Michigan municipalities that have opened themselves up to recreational marijuana, I don't think their programs are as strong as ours."
The marijuana ordinance has been in the works for the last year and had a June 1st deadline. Last fall, commissioners decided to postpone the vote in order to hear more opinions from the public and to assess how other communities had found success with their rules.
"I am certain that all of us sitting here voting on this do not feel that this is an absolutely perfect ordinance in every single way, but we certainly are in one of those situations where we have desires and interests that are, in some ways, on both sides of this issue, and we've been dealing with that for some time now," Mayor David Anderson said. "What we try to do together is find a way to be sensitive to that, [be as fair as possible] and listen and thread the needle. I hope to think that's where we've gotten on this, but at this point, now is the opportunity for us to finally take a vote on this one portion of our work, which is the zoning ordinance."
Commissioners ultimately voted in favor of the business zoning ordinance, as well as the updates to city code and the social equity program.
Now that these new measures have been approved, they will go into effect beginning on Thursday, May 28, at which time recreational marijuana can be legally purchased within city limits.
A full list of different zoning regulations for each business type, as well as a map overlay and all related documents, can be viewed online at the City of Kalamazoo website.