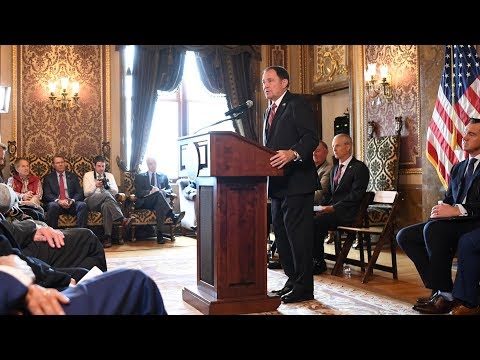 https://cannabisexaminers.com/wp-content/uploads/2019/01/3204/compromise-announced-to-legalize-medical-cannabis-in-utah.jpg
State leaders, medical experts, clergy and others gathered on Utah's Capitol Hill in Salt Lake City on Thursday to announce a compromise to Proposition 2, which would legalize distribution of medical cannabis in Utah.
Opponents believe the proposition does not strike the proper balance in ensuring safe and reasonable access for patients while also protecting youth and preventing other society harms.
"We believe [the compromise] has addressed most of the medical community's concerns that are in the ballot proposition right now that physicians saw as nonmedical and harmful to patients or recreational that would harm all Utahns, particularly Utah's children, adolescents and vulnerable populations," said Michelle McOmber of Drug Safe Utah and CEO of the Utah Medical Association.
Utah's medical community has been part of the coalition opposed to Proposition 2.
Under the compromise, Utah Governor Gary R. Herbert said there will be training for physicians and pharmacists who will be involved in dispensing medical cannabis through specialized pharmacies or local health departments, stringent controls will be in place for cultivation to prevent recreational use of the product, greater respect of local zoning laws will be provided, and clarifications will be made for law enforcement.