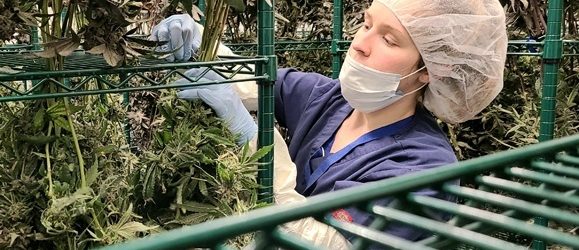 https://cannabisexaminers.com/wp-content/uploads/2020/05/1589461378128.jpg
A rose by any other name would smell as sweet. Despite its history, marijuana or cannabis is a plant like any other that requires study, care and knowledge.
Georgia Lewis, a graduate of Dal's Faculty of Agriculture in 2014, has worked across Canada with a number of different crops and has been working specifically in the cannabis industry since legalization.
"I became interested originally for the complexity of the plant and growing methods involved," she says. "It has been a big challenge and the more you grow it, the more you appreciate it.  It's such a beautiful plant physically and not to mention the amazing aromas. I just love it."
Lewis currently works at Mernova Medicinal Inc., a 24,000 ft cultivation/extraction and production facility in Windsor, NS, with 10 flower rooms. In her position, Lewis is responsible for the vegetative room, the IPM plan, scouting, recordkeeping and lighting and ssists with harvesting, cloning and cleaning. Her favorite areas are crop nutrition and soil science, but she is quickly falling in love with lighting.
"Lighting is attractive because it is something completely new," says Lewis. "The sun was always there in my past jobs and you didn't really think about it too much and you definitely can't adjust it"
She and anther co-worker were asked to tackle this variable in relation to crop growth.
"It has been interesting because of the technology — you can really alter the spectrums and intensity depending on the cultivars and growth stage and really effect the quality of your crop. The industry is just at its beginning phases of understanding artificial lighting technology and how they impact plants and that's exciting."
On-campus leadership
Lewis is currently co-instructing the Cannabis Production and Management course with fellow alumnus Alex Buckley, offered through Extended Learning on the Agricultural Campus.
Cannabis Production and Management is a fully online, non-credit course that provides advanced knowledge and selected skillsets for mid to upper-level production jobs in commercial indoor growing facilities.
This 13-week program is covered in ten modules and students cover critical aspects of the cannabis industry, cannabis products, workplace requirements, crop management, quality control/quality assurance, harvesting, processing and waste management. The successful first offering of the course in the fall of 2019 resulted in 93 per cent of students indicating the course and instructors were effective in increasing their critical skills in these areas.
"There is a lot of personal passion in this industry," says Lewis. "One female master grower was originally in automation — there are all walks of life with many different skills and trades, all of which can integrate into the cannabis industry."
Adam Webster, a Master Grower, is already using what he's learned from the inaugural course in his current business, Annapolis Valley Craft Cannabis in Port Williams.
"This program provided me with detailed information on every aspect of cannabis production and regulations," says Webster. "It has helped me to select the best equipment for my needs, how to care for cannabis plants at each stage and the different avenues in which I could expand my business."
Cannabis Production and Management provides cannabis-specific training for mid to upper level production jobs in indoor growing facilities and targets the knowledge, skills and resources for success in commercial production.
"I think there are a million reasons why people become interested in the cannabis industry," added Lewis.  "For many it's the pure passion of the medicinal and spiritual properties of the plant, many are coming from the legacy market, others are attracted to the fast pace and challenges of a new industry in terms of business, finances, marketing, or media, others are coming from other horticultural and agricultural commodities."
The next offering of the course will run from June 1 to August 31, 2020.For more information and to register visit dal.ca/exl or contact colette.wyllie@dal.ca