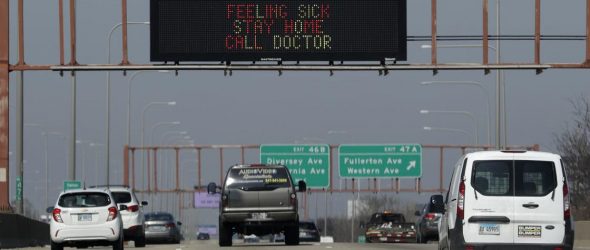 https://cannabisexaminers.com/wp-content/uploads/2020/04/5e842cba373cb.image.jpg
As the new coronavirus pandemic spread and Illinoisans were ordered to stay home, dispensaries — which are deemed essential by the state and allowed to stay open — suddenly had to figure out how to enforce social distancing in their stores. Protecting medical marijuana patients, many of whom have compromised immune systems, became a pressing concern. And plans to open new dispensaries were put on the back burner as city approvals for new sites ground to a halt.
"We had to literally change the entire way we operate overnight," said Paul Lee, general manager for Dispensary33, which shut down recreational weed sales and is asking medical patients to preorder. "It's like reinventing the wheel all the time here. We just got our feet under us."
Like many businesses, the marijuana industry is trying to pivot and adapt as coronavirus reshapes the landscape. But unlike some other industries, dispensaries are regulated by the state, which means they can't make operational changes without first getting approval. Even allowing medical patients to pick up their orders curbside, an industry effort to facilitate social distancing, required approval by the Illinois Department of Financial and Professional Regulation. Dispensaries also were instructed by the agency to keep customers 6 feet apart.
Coronavirus has meant a swift turn for an industry that, in the first two months after recreational sales launched on Jan. 1, was focused on serving long lines of customers as quickly as possible.
Some dispensaries have instituted reservations, or are taking orders via phone. And many are doing it all with skeleton crews, as staff members not feeling well or worried about exposure to COVID-19, the disease caused by the coronavirus, work remotely.
6 Central Illinois clinics get money for coronavirus protective equipment