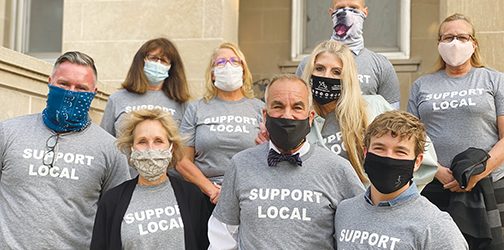 https://cannabisexaminers.com/wp-content/uploads/2020/09/pot-appeal-WEB.jpg
ALPENA — A medical marijuana provisioning center on Monday lost its second attempt to earn permission to open in Alpena.
The Alpena Municipal Council met well into the night Monday considering an appeal from Neighborhood Provisioning and its investors, Bob and Kevin Currier. But, even after rescoring the application, the business still wouldn't have scored as high as two companies who were selected last week.
Lume Cannabis Co., of Troy, and Green Buddha Cannabis Co., of Ferndale, were chosen from six applicants vying to be the first two dispensaries allowed to open in Alpena. The city only allows two medical marijuana provisioning centers in the city limits, and does not allow the sale of recreational marijuana.
The Curriers, who are from Alpena, said they had some questions about how their application was scored, and wanted the council to review the application again to be sure there were no points missed that could have cost them approval.
Some of the sticking points were whether Neighborhood Provisioning would use an existing building or build a new structure, what it would pay and invest, and what it would do to eliminate and prevent blight near the store.
Kevin Currier, who presented the council with a slideshow to express his points, admitted he didn't record the proper numbers in a portion of the application pertaining to wages for employees. He said the outfit would pay 200% of minimum wage, while the city sought a commitment of 200% of Alpena's living wage.
Currier said his figures, although not what the city requested, would pay employees more.
"I just don't want to be penalized for misunderstandings," he said. "We say in the application that we will pay employees whatever the city requires us."
The council did not award points for that issue because council members said Currier didn't provide the exact data requested.
The council did award a pair of points for the business's plan for blight, which boosted the score to 39 total points, which still wasn't enough to win approval to open a provisioning center in the city.
Lume Cannabis intends to construct a facility on vacant property on Chisholm Street across from the Cracker Barrel Party Store. Green Buddha plans on renovating the former Brett's Auto, also on Chisholm Street.
Today's breaking news and more in your inbox