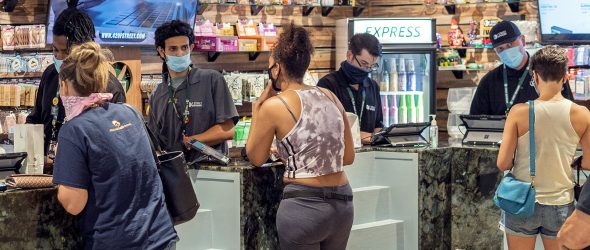 https://cannabisexaminers.com/wp-content/uploads/2020/07/F-Street-Dispensary01.jpg
DAVIS — Brothers Robert and Mike Reed saw a business opportunity when California voters made the cannabis industry legal.
And they knew exactly where they wanted to set up shop.
The building at 420 F St. in Davis has belonged to the family for about 25 years, though the family's roots go back 40 years. It is where their father ran his accounting business at what was then 416 F St.
Four-Twenty, within the marijuana culture, is slang for consumption, and has evolved to specifically mark April 20 as a day for cannabis celebrations.
"My brother and I did not come from the cannabis industry, and we don't want to be known in the cannabis industry," Robert Reed said. "We just want to run a successful retail business and have a successful brand."
And that is how they approach the business, as a retail outlet.
Mike Reed has a business background, while Robert Reed oversaw senior living facilities of various types.
"Obviously, there are security concerns and banking problems and knowing the products, but still, people are buying (products)," Robert Reed said.
"It's a widget," said Reed, making the comparison to cannabis retail and other retail.
The F Street Dispensary opened in October 2018 as a medical and adult recreation marijuana store, and like other retail outlets, they offer a variety of goods for customers, and in different price ranges.
"We really thought we would be a boutique," said Reed, with visions of offering only higher-end goods and products. But they quickly learned the greater demand was for mid- to lower-end goods.
It seems the consumers, many of whom enter the legal world of consumption having learned what they like from the illegal market where the choice of how much to pay is not as flexible. Now they can pay less for a product that they are happy with, or choose to pay more.
It is not unlike the alcohol industry in that respect. If someone likes a $30 bottle of wine, for example, there is no need to spend $60.
They also market themselves like a retail outlet, and because of their clientele, they use a variety of advertising formats, including quite successfully, the print media. That also comes more out of traditional retail practices, but it reaches its own audience, too.
For example, the fastest growing consumer group for medical cannabis is the senior population, which is looking for alternatives for pain management, anxieties and a host of specific ailments.
The Reeds emphasize they are not doctors, and often refer their customers back to their physicians to get proper medical advice. Of course, many of their customers say that their doctors told them to ask the Reeds.
Robert Reed is hopeful that as the cannabis industry gains more legitimacy within federal law, the medical benefits will be researched, tested and dosage and other issues regulated just like other medical products.
The one thing the Reeds do know about their marketing strategy is it has resulted in a growing customer base from the Fairfield-Vacaville area and from around the Bay Area – even as far away as San Francisco.
Those customers have said they are attracted to the prices, the store environment and customer service – all pillars of retail.
By the end of the year, the Reeds hope to have a 3,000-square-foot temporary building up and running in Dixon, located on 1.6 acres right next to the iconic Cattlemens restaurant.
Location. Location. Location.
The goal is to provide a location a little closer to their Bay Area base, but also to attract commuters and travelers in that Sacramento-San Francisco corridor.
They will then build a two-story, 34,000-square-foot building that will include a 7,000-square-foot penthouse greenhouse on the roof. They also plan to expand into other areas of the industry, creating what the state always envisioned as a vertical, self-contained small business.
They hope to use the outlet as an educational opportunity for their customers so they can see how the business operates from seed to store.
Right now the Reeds get all their products from outside sources.
Each product, Robert Reed said, is tested for consistency and quality by state-licensed laboratories.
The foundational principles stay the same.
"It's not rocket science, it's retail."
Related