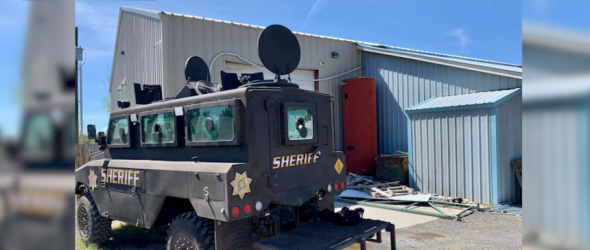 https://cannabisexaminers.com/wp-content/uploads/2020/05/Screen-Shot-2020-05-27-at-5.42.20-PM-860x485.png
Deschutes County
Early info on locations involved operation; more details due later
LA PINE., (KTVZ) — Deschutes County Sheriff's Office marijuana enforcement detectives, assisted by the Central Oregon Drug Enforcement Team and the sheriff's office SWAT team, raided three alleged illegal marijuana operations Wednesday morning, seizing hundreds of plants.
Search warrants were served at three locations: on Festis Avenue in La Pine; in the 18000 block of Riverwoods Drive in Deschutes River Woods south of Bend; and the 65000 block of North Highway 97, between Bend and Redmond.
Sheriff's Sgt. William Bailey told NewsChannel 21, "They are still processing evidence, but an initial count estimates they seized over 800 marijuana plants today at two locations," the ones in La Pine and on Highway 97.
Over the past two years, there have been at least four illegal marijuana grows raided in the La Pine area, Bailey said.
One neighbor in La Pine who lives near Festis Avenue said many neighbors have complained and were aware of the marijuana operation in the area.
"There are many neighbors who wanted this cracked down for a long time," Robert Lite said. "Almost next door, there's a family over there with children. What I was told is that those folks have complained about the marijuana growers for a very long time. They've complained that they have children there and it smelled awful."
The investigation continues, Bailey said, and more information is expected to be released soon.
Bend / Central Oregon / Crime And Courts / La Pine / News / Top Stories