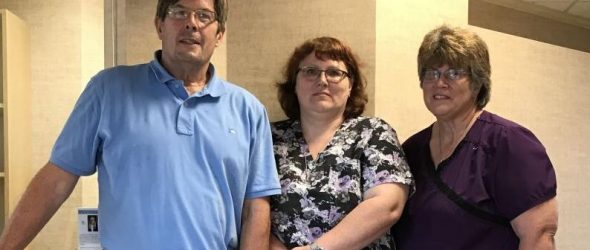 https://cannabisexaminers.com/wp-content/uploads/2020/07/5f12fe01862ba.image.jpg
BLACK LICK — Dr. Dave Beyer and his medical office staffers sized up their surroundings Wednesday.
They're set for one day-a-week service under the same roof as the Align Sports Chiropractic Clinic in a former bank branch office along the southbound side of Route 119 between Black Lick and Mile Hill.
Wednesdays will be the days when Beyer will see patients for evaluation for medical marijuana treatment for their ills and injuries.
Beyer, who has long operated the Laurel Medical Oasis office in Greensburg, is the second physician meeting stringent state requirements for prescribing marijuana to start a clinic in Indiana County.
Patients may make appointments but walk-ins will be welcome. The office hours, 2 to 8 p.m., are designed to accommodate daytime workers.
Beyer and his health assistants, Deborah Shreckengost and Kim Hancock, said they knew well the strong market for his service, having taken many, many Indiana County residents as patients at his Westmoreland County Clinic.
They explained the strict Pennsylvania Health Department regulations governing the use of marijuana for medical purposes.
Physicians with state permission to prescribe THC, the active chemical in marijuana, meet with patients to document their diagnosis of one of two dozen medical conditions for which the drug is approved as a treatment.
"I just need documentation of their condition and I do the registration of the patient with the state department of health," Beyer said.
Conditions may already have been diagnosed and put on record by a primary care physician or specialist. Cancer, epilepsy, glaucoma, multiple sclerosis, Parkinson's disease, Tourette's syndrome and post-traumatic stress disorder patients achieve relief of related pain and other symptoms, according to Beyer. Medical marijuana is most often authorized for use in place of products for pain, especially opioids, and treatments for sleeplessness and eating disorders.
"We know you have an opioid addiction problem in this area. A very big problem," Hancock said.
"It's a very good therapy as well as an alternative to the opioid problem," Beyer said. "It doesn't interact with other drugs. It's a very simple thing for people."
Although it has no application in treatment of a COVID-19 infection, Hancock said, medical marijuana could ease the accompanying anxiety that a patient could experience while suffering from coronavirus.
Shreckengost said one of the Laurel Medical Oasis patients abandoned use of a dozen prescribed pills after using THC.
"There's no downside to its use," Beyer said. "I think that's the best part of it. It helps many people — it's an all-natural substance, our bodies are full of cannabinoid receptors. Again, it's a proven and well-received product."
Instead of a written prescription, the patient is given a state-issued photo-identification access card that must be presented at a licensed dispensary of marijuana-based products — tinctures, pills, oils and loose leaf form that patients burn and smoke, Beyer said.
The patient's card is valid for a year and allows access to product centers as often as needed. Patients can ask for supplies to last a week, a month or longer.
At a dispensary, a medical adviser screens the patient to determine the most appropriate strain, absorption method and potency of marijuana to achieve the appropriate relief of conditions and symptoms.
The state has not licensed any dispensaries in Indiana County. The nearest dispensaries are in Latrobe, Greensburg, Johnstown, Monroeville and DuBois.
Beyer, a board certified anesthesiologist before earning certification to prescribe marijuana, defined his office's goals in a mission statement shown on a rack card that includes a list of medical conditions that can be treated with marijuana: "Through compassion, competent care and confidentiality, Laurel Medical Oasis offers a tranquil setting to provide quality treatment and relief from challenging conditions that affect one's life as well as the community."
Those with questions about the clinic or who wish to make an appointment may telephone (724) 757-5011 or message the staff through the Laurel Medical Oasis page on Facebook.