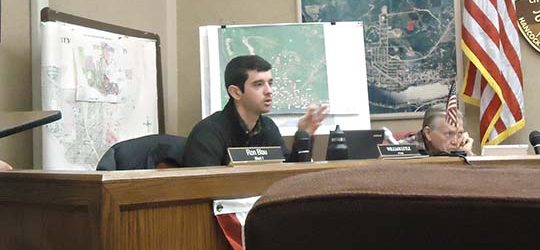 https://cannabisexaminers.com/wp-content/uploads/2019/11/11-26-hancock-mary-jane.jpg
HANCOCK — The Hancock Downtown Development Authority has weighed in on the city's ongoing discussion regarding recreational marijuana licensing in the downtown area. The DDA created and shared a survey among its member businesses and submitted the results to the Hancock City Council.
"At the Downtown Development Authority (DDA) meeting, a motion was made and unanimously carried to recommend that the City Council not permit recreational marijuana business licenses in the core of Historic Downtown Hancock," DDA Chairperson Pete Wickley wrote in a letter introducing the survey results to the city council. "The DDA recommends that the City Council do more research on the topic before making a decision."
The survey of 35 downtown business owners reportedly found that 62.86% of respondents were in favor of the city remaining opted out. Further, 60% were against marijuana sales in the downtown and 775 were against the licensing of recreational marijuana growth and processing in the downtown.
Wickley had also spoken at the city's public informational session in October, where it was expressed that businesses may leave the downtown if recreational marijuana retail is allowed there. Wickley was also one of several voices calling for a vote on whether or not Hancock should allow recreational marijuana retail.
"I think the referendum vote on the legalization in Michigan is very different from our feeling in the city of Hancock," Wickley said at the event. "The feeling in downtown Hancock does not support this proposal."
Wickley has since announced that he will be stepping down as DDA Chairperson as of Dec. 2 after 39 years of service.
According to a document prepared by the City Council in advance of the informational session, 57.3% of Hancock residents voted in favor of legalizing recreational marijuana in the 2018 state referendum. The City of Hancock also created an open online survey but has not released the results. However, aggregate responses were discussed at the November city council meeting Wednesday evening. According to the report, 61.1% of 113 respondents said that they were in favor of licensing and 26.9% said that they were strongly opposed. The survey was and remains available on the City's website.
The City Council's Ad Hoc Recreational Marijuana Committee's current proposed legislation would allow recreational marijuana growing, processing, and retail in the downtown. However, they have also identified other areas of the city where recreational marijuana retailers could operate without violating state-imposed zoning restrictions regarding the distance from schools, churches, and recovery centers.
At the informational session, Mayor Paul LaBine called the idea of putting recreational marijuana retail in the city up to a further vote "appealing," but the council stopped short of saying that the vote would definitely happen. The city council said at the November meeting that the earliest that recreational marijuana licensing would appear on a municipal ballot would be March of 2020. They also pointed out that waiting for a vote still wouldn't mean inactivity in the meantime.
"At the info session, we were tasked with looking at the possibility of a city-wide vote … I was surprised to see that there were no online comments suggesting a further vote," said city council and Ad Hoc Recreational Marijuana Committee member Will Lytle. "Even if we get a 51% 'yes' vote, we'll still need to work out zoning and licensing."