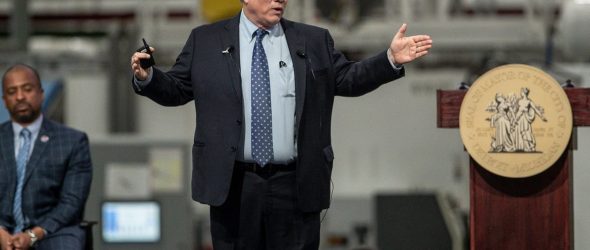 https://cannabisexaminers.com/wp-content/uploads/2020/02/USATSI_14096836_168386025_lowres.jpg
DETROIT (WWJ) — Mayor Mike Duggan says he is fine with approving a law to allow recreational marijuana businesses in the city of Detroit — so long as at least half of them are owned and operated by Detroiters.
In his seventh annual State of the City address Tuesday night, Duggan says equity needs to be demanded when it comes to the marijuana industry. 
Voters in the state of Michigan decided to legalize adult use of recreational marijuana statewide in November 2018. More than 1,000 municipalities throughout Michigan have decided to ban the sale of recreational pot in their cities. Back in November, Detroit officials enlisted a temporary ban on recreational shops until they can get an ordinance in place. That ban was due to be lifted at the end of January, but has since been pushed back until this spring at the earliest.
Duggan and the city council have been working on forming an ordinance that will lay out the guidelines for recreational shops within the city, and Duggan, on Tuesday night, said he has been working closely with City Councilman James Tate to get legal shops up and running. 
And they are not backing down on making sure Detroiters are the main beneficiaries of the marijuana industry within the city.
Detroit currently has 40 medical dispensaries, but only four are owned by Detroiters — 90% of the owners live outside the city, according to Duggan.
Must say, @mayormikeduggan is spitting some truth tonight. Respect. Many details from his talk are deserving of discussion, no doubt, but I found these #marijuana stats especially *interesting* pic.twitter.com/bqLDqvRXP4

— Matthew Larson (@mattjlarson) February 26, 2020
"Those folks aren't doing anything wrong, they're just not — they're very well organized, and it's not benefiting people who live here," Duggan said. "And then in the suburbs, the law says you can either choose to sell or not sell. 90% of the suburbs said 'we're not selling in our city.' So the folks are going to come down to Detroit to buy the marijuana."
That's why, Duggan says, it's important to capitalize on the industry and make sure Detroiters reap the rewards.
So we now have to decide whether to approve the shops here and the new applicants coming in for the recreational marijuana are almost all from outside the city," he said.
While the process to approve a recreational marijuana ordinance in Detroit has been delayed until at least this spring, Duggan commended Tate for stepping up and making sure residents of the city are benefiting.
"An enormous amount of wealth is going to be created in the next few years. This is going to decide who has it for 10 and 20 and 30 years. If we are asleep in the passing out of these licenses for the next three years, that wealth will go to people outside the city. I'm happy to have people outside the city benefit, but Detroiters have to benefit, too," Duggan said.
The second-term mayor says anyone who is currently operating on a medical license can keep it.
"We don't want to take anything away from anybody who's doing the right thing," he said. "But going forward, 50% of all licenses issued will be issued to bona fide residents of the city of Detroit. And that's going to apply to medical marijuana, recreational marijuana, marijuana micro businesses."