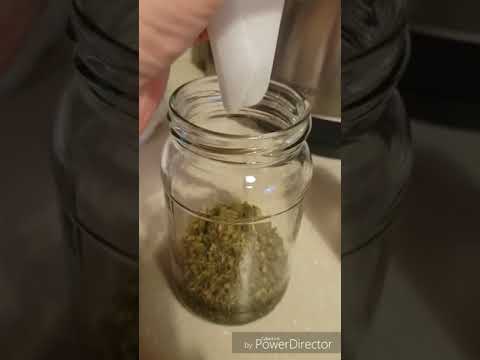 https://cannabisexaminers.com/wp-content/uploads/2018/11/2091/easy-to-follow-amp-best-way-how-to-make-thc-vape-e-liquid-from-cannabis-buds-or-weed.jpg
This is the best way to make THC infused vape juice using your weed/bud! It's also the easiest, yay!
Thanks for watching! See below for further info, please like and comment below on how your cook up goes.
Thanks for watching, much love and peace! ❤☮
*WHAT I USED TO MAKE MY JUICE* ❤
(In order of use)
Cannabis x 7g
Grinder
Baking / parchment paper
Glass casserole dish lid
Tin / aluminium foil
Empty clean jam jar with lid
Syringes (10ml & 5ml)
(I use 8ml of fluid per 1g of weed, made up of:)
Vegetable Glycerin x 18 ml (30%)
Propylene Glycol x 42 ml (70%)
Baking / parchment paper and celotape for funnel
Teaspoon
Straight sided saucepan
Glass Bowl
Potato ricer
Cheese cloth
(new pack of dishcloths works fine, use 2)
Spatula
More syringes (10ml & 5ml)
Empty vape bottles for final product
*HOW I MADE MY JUICE* ❤
Pre heat oven to 115 degrees C
Or 240 degrees F
Or just below gas mark 1
Cut baking paper to fit inside casserole lid
Grind weed and place into baking paper
Spread evenly
Cover with tin foil, make sure you cover as well as possible leaving no gaps, so none of the goodness escapes.
*please recycle your foil guys*
Place in middle if pre heated oven, set timer for 30 mins
Remove from oven after 30 mins and leave covered, to cool for 20-30mins (so the goodness soaks back into the weed).
This above ☝️ decarboxylation process is REALLY IMPORTANT!!
**If you don't do this your end product won't be very good at all, and there is a chance you will have just wasted 7g of nice weed**
Whilst your weed is cooling, measure our your base fluids into your jar.
(It's good to recycle old jars you've used around the house, good for the environment guys!)
Make a funnel from baking paper using a small amount of cellotape, you can reuse this each time.
Get your saucepan and heat up some water on the hob, have the lid on to speed up the heating, but you will need to remove to cook the juice up, of course.
Once your weed is cooled, use the baking paper you cooked it on to transfer to the funnel and pour into the jar.
Use the spoon to ensure the weed has all been covered by the liquid.
Place the lid on the jar, and pop the jar into the saucepan ensuring it's on the LOWEST heat setting. (Doesn't matter on the temp as long as it's NOT TOO HOT.)
Set your timer for 30 mins, at this time agitate the jar to 'stir' the mixture, reset and stir every 30 mins for a total of 3 hours 30 mins.
Once all done, leave to cool for around 10-15 mins.
Setup your potato ricer into the bowl with the cheese cloth placed over the potato ricer ready to empty the jar into.
Empty the contents of the jar into the cloth, use a spatula for this part, then squeeze your ricer together, and the filtered juice Will come out of the bottom into your bowl.
Measure out into your vape juice containers.
All done!!
Thanks again!