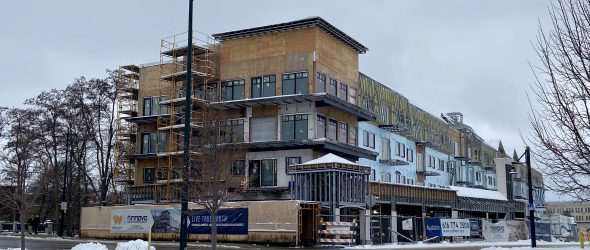 https://cannabisexaminers.com/wp-content/uploads/2020/01/Breakwater_Construction-scaled.jpg
The first year of the new decade promises to be a significant one in northern Michigan, bringing major election races, a U.S. census count, the proliferation of marijuana sales, and new developments coming online. The Ticker has your first look at some of the top stories to watch in 2020.
Elections
The topic most likely to dominate news in 2020 is the U.S presidential race, with Democrats soon set to select a candidate to challenge President Donald Trump. On March 10, local residents will head to the polls for the presidential primary election. Grand Traverse County Clerk Bonnie Scheele notes this election – called a closed primary – can often be confusing to Michigan voters, who will be required to choose either a Republican or Democrat ballot when they enter the polls (a voter's party ballot choice will be public information, but the candidate they select will not). A subsequent August 4 primary election is open, meaning voters do not have to select a party before receiving a ballot.
Other key election dates in 2020 are May 5 – when local proposals and recall efforts can appear on the ballot, with a late January filing deadline – and November 3, the presidential election date. In northern Michigan, all seven commission seats in both Grand Traverse and Leelanau counties will be up for grabs this November, with judges, clerks, registers of deeds, sheriffs, prosecutors, and township trustees and supervisors also appearing on the ballot. If community group TCAPS Transparency is successful in its efforts to force a recall election for school board members Sue Kelly, Matt Anderson, and Pam Forton, that could also appear on the November ballot, along with other regular school board races.
Eyes will also likely be on the seats of U.S. Senator Gary Peters – who is seeking another term – as well as State Rep. Larry Inman. Barring a successful recall campaign or a guilty verdict in a criminal retrial before then, Inman's term will expire at the end of 2020. Grand Traverse Democrats Chair Chris Cracchiolo, who notes Inman last won his seat by just 349 votes, says the group will be working hard to support a Democratic challenger for the 104th State House Seat. Grand Traverse Democrats also hope to run "candidates in historic numbers of local races in 2020," Cracciolo says. Grand Traverse Republicans Chair Haider Kazim, meanwhile, says his group anticipates "a tough fight in the general election and are ready for it, to make sure that the 104th House District remains Republican." Kazim says the group will focus on backing reelection campaigns for Republican Grand Traverse County officials and "recruiting solid conservative Republicans to challenge the incumbent Democrats on the county commission." The combination of so many high-profile races could generate record turnout in northern Michigan in November 2020.
U.S. Census
Be prepared for fliers in your mailbox, commercials on your T.V., and knockers at your door in the coming months: The next U.S. Census will take place in 2020. With billons of dollars in federal funding and Congressional seats at stake, government and community leaders are keen to ensure every individual possible is counted this year.
The census kicks off April 1; for the first time ever, individuals will be able to respond online as well as by phone and mail. An estimated $1,800 per Michigander in federal funding is at stake in the census; Traverse City is also expected to cross the population threshold to become a Metropolitan Planning Organization (MPO), qualifying the community for new funding for planning and transportation projects.
Marijuana Sales
Two new medical marijuana dispensaries – The Cured Leaf in Traverse City and Redbud Roots in Acme (opening this month) – are the first of an anticipated onslaught of marijuana-related businesses coming to the region in 2020. Twelve other medical dispensaries are in various stages of construction in the Traverse City limits, with several nearing completion and obtainment of their final permits. Other nearby communities, like Kalkaska, have embraced the burgeoning industry and are working with growers, transportation companies, micro-boutiques, and even event planners on marijuana-themed businesses and festivals.
The industry will become even more prominent when recreational sales are approved locally. Traverse City commissioners have promised to begin allowing such sales as soon as they can finalize local rules regulating the industry, which could happen before summer. Downstate numbers hint at what could be in store for northern Michigan: In the first two weeks of December alone, the small handful of the state's first licensed recreational stores generated more than $3 million in sales.
Developments
Cranes in the air – even throughout the region's coldest months – mean several major developments are coming online in 2020. The most prominent is Breakwater, the massive mixed-use development stretching throughout the Warehouse District between Garland Street and the Boardman River. The company's website states the project will be ready for occupancy this spring, with 77 apartments on-site ranging from 450 square feet to 2,300 square feet and costing $1,075-$4,800 per month. The development will also have 10,000 square feet of retail space, including a 400-seat restaurant (tenants have not yet been announced).
Across the river, developer Erik Falconer says his project at the corner of Front and Pine streets with partner Joe Sarafa is on track for a late 2020 completion date. The four-story, 73,000 square-foot building will serve as new 4Front Credit Union administrative center, with additional retail and office tenants on the lower two floors. Phase two of the project could see another building constructed on the site in the future next to the Boardman River. "This (first building) has been drumming up interest…so now we're considering all of our options and looking for the right partner (for phase two)," says Falconer. "We're excited and looking forward to 2020."
Breaking ground by early summer will be Commongrounds, the planned 57-foot mixed-use development at the corner of Eighth Street and Boardman Avenue. The project will house Higher Grounds, Iron Fish Distillery, a 150-seat performing arts center managed by Crosshatch Center for Art & Ecology and May Erlewine, Pathways Preschool, Commonspace, Table Health, and 22 apartments. Project Director Kate Redman says the cooperative venture recently finished raising $1.4 million from 140 investors and has over 500 community owners. "We're projecting summer 2021 for the building to be done," she says.
Other Traverse City projects underway or on deck in 2020 include a four-story waterfront home for Honor Bank and other potential tenants at 415 East Front Street along the Boardman River, Thom Darga's planned redevelopment of the historic Hannah Lay building, a four-story Eastwood Homes project featuring 15 dwellings under construction on Randolph Street, a Socks Construction development planned for the other side of Randolph Street across Division next to Dairy Lodge, another 20-unit, two-building Socks Construction development on State Street, and the continuation of a multi-million-dollar makeover of West Bay Beach – a Delamar Resort. Just outside the city limits, meanwhile, developers in Elmwood Township plan to bring the new West Shore & Hotel Marina to life in 2020 at the former Scuba North property.
Want to check out even more of the top stories to watch across the region in 2020? Pick up the January "What to Watch" issue of the Traverse City Business News, sister publication of The Ticker, available on local newsstands and to subscribers. For more information, click here.