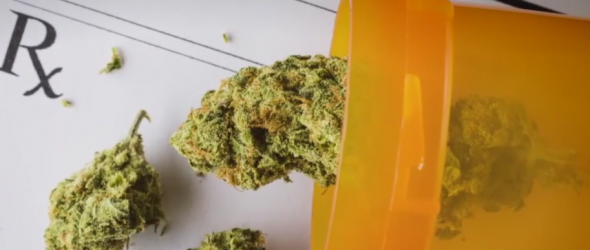 https://cannabisexaminers.com/wp-content/uploads/2019/11/Medical-marrijuana.-Photo-via-WINK-News.1.png

FORT MYERS
Once seen as "slowing minds" and "ruining lives" in the early 20th century, marijuana is back as medicine and erupting into a billion-dollar industry in Florida.
"I do believe in this as medicine, 100 percent," Dr. Gregory Sonn said. In fact, it's his entire business model.
After years of working in palliative and hospice care, Sonn now runs Iona Cannabis Clinic in south Fort Myers. He credits some of his success to good timing and lots of referrals.
"After a year, a lot of these physicians who have doubts or questions couldn't beat the outcomes of these patients," Sonn said.
Sonn is the leading medical marijuana certifier in the state with 4,203 between October 2018 and March 2019 across multiple locations in Florida. The average number of certifications per physician was 140.
"One of the main focuses that I have been using is secondary diagnoses," Sonn said. "How do we get folks who have depression, who have anxiety, who have chronic pain. How do we get those people certified?"
Sonn says, because he believes in the drug so much, he works to find ways to qualify more illness and give more people access. The state outlines 12 specific qualifying medical conditions, including PTSD and cancer. The 13th category is "medical conditions of the same," which makes up the majority of Sonn's certifications.
"Paperwork is excessive," Sonn said. "You have to actually do a bunch of extra research, hence why some of us are successful and others aren't."
That success brought up some concern to the State's Physician Certification Pattern Review Panel during a meeting in August.
"To me, it feels like the 800-pound gorilla in the room," said panel member Dr. Michelle Mendez in the audio-recorded meeting.
Made up of doctors from the Board of Medicine and Board of Osteopathic Medicine, the review panel doesn't include any certified medical marijuana doctors. But, they're supposed to review certification data and make recommendations to the legislature.
What stunned them was that their 500-page six-month report showed just 89 doctors (7%) were responsible for almost 94,850 patient certifications — 56 percent of the statewide total.
"I looked at this data and I said, 'Well, this is just another form of a pill mill,'" panel member Dr. Sarvam TerKonda said.
WINK News asked Sonn what he thought about their concern.
"I am not a pill mill," Sonn said. "There are barriers in place to have physicians be successful and those barriers are things that I and others of those 7 percent have learned to manage very well."
So what are those barriers?
"I need to remind the panel that all these physicians have different business models," Chairwoman Dr. Sandra Schwemmer said.
WINK News found out, if a doctor isn't operating a dedicated medical marijuana clinic, things work a little differently.
"I think it is true that a fair percentage of doctors who are certified don't ever do it," Naples Dr. Gary Courville said.
Courville is certified, but he runs an internal medicine practice. The report shows he had just over 20 certifications in the same time frame as Dr. Sonn.
"The majority of my medical marijuana patients, I see them for other things," Courville said.
Then, there are physicians like Dr. George Soliman who works day-to-day as a pain management doctor. But he has to operate his own, monthly medical marijuana clinic on the side.
"You're getting into the world of the stigma, so some places don't want any affiliation," Courville said.
He also had just over 20 signups.
"I can tell you I would probably do more medical cannabis, and I would advertise it if I had a little bit more opportunity to use my clinical judgment," said Soliman, referencing the limited amount of qualifying conditions.
All three doctors believe medical marijuana can be a safer alternative to prescribing opioids. But they say doctors aren't prepared just by taking the certification course.
"You take the certification, you realize, I now know how I can sign someone up, but how do I actually manage the patient," said Soliman.
So how are they managing patients? There are some state-mandated guidelines, but these doctors say much of the process is learn-as-you-go. They told WINK News it takes a lot of time and effort to educate both themselves and patients.
"A lot of it becomes consensus from the physicians who are doing it the most," Soliman said.
Between the lack of standardized education, added workload, and the stigma against the drug, they say some doctors are disincentivized. And it could explain why a lot of physicians who decide to get certified aren't actually signing people up.
Sonn said these barriers don't let all physicians succeed.
"Until you can manage that process, you're not really going to be successful or have a great number of patients," Sonn said.
WINK News reached out to members of review panel at that August meeting, and no one responded to our request for comment. At the conclusion of that meeting, they decided on the following recommendations:
Determine the expectations from the Legislature and the Office of Medical Marijuana Use
Recommend having more information on addresses in the profile, including all satellite locations
Define not practicing and out-of-state physicians
Recommend, under reported qualifying conditions, that chronic nonmalignant pain include a place for the qualifying physician to add the underlying disease or condition
For more information, see the meeting summary report.
The next meeting to review the latest medical marijuana certification data will be Friday, Nov. 15.