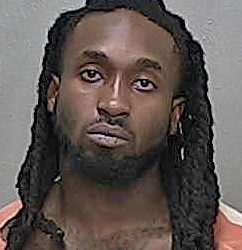 https://cannabisexaminers.com/wp-content/uploads/2020/07/Malcolm-Jamaal-McCloud.jpg
A Gainesville man was charged with possession of marijuana and driving with a suspended license after he was pulled over in Belleview.
Shortly before 1 a.m. June 1, a Belleview Police officer ran a license tag check on a silver Mercedes Benz with a temporary tag driving in the 5500 block of SE 132nd Street Road. The search showed the registered owner's license was suspended, according to the OPD report.
The officer initiated the traffic stop and spoke with the driver, 23-year-old Malcolm Jamaal McCloud of Gainesville. McCloud told the officer the car belonged to his mother, but the officer told him the records check on the temporary tag showed he was the owner. When asked for his driver's license, McCloud handed the officer his Florida ID card and said his license was suspended, the report said.
The officer smelled the strong odor of marijuana emitting from the vehicle. When asked about the smell, McCloud admitted there was marijuana in the vehicle, according to the report.
The officer ran McCloud's information through Florida's Driver and Vehicle Information Database (DAVID) and confirmed McCloud's license was revoked in May 2013. McCloud also has a previous conviction for driving with a suspended license, the report said.
After the officer asked McCloud to step out of the vehicle so it could be searched, McCloud said there was more than 14 grams of marijuana in the center console. The officer searched the vehicle and retrieved the marijuana from the center console and a digital scale in an orange backpack in the front passenger seat. The total weight of the marijuana was 19.19 grams, according to the report.
McCloud was arrested and taken to the Marion County Jail, where he was released later that evening on $1,500 bond. No court information was available.