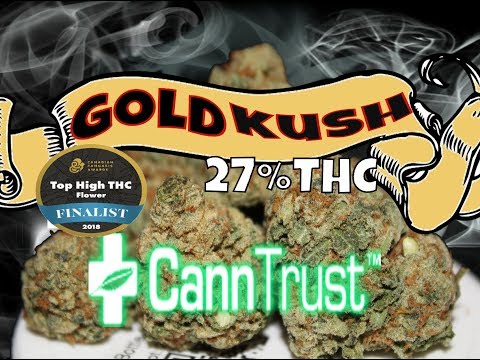 https://cannabisexaminers.com/wp-content/uploads/2018/12/2655/gold-kush-cannabis-strain-review-canntrust-legal-medical-weed-canada.jpg
Gold Kush Cannabis Strain Review | CannTrust Legal Medical Weed Canada
Gold Kush
Dried Cannabis (Indica)
THC: 27%
Hey everyone you have Mike here and today we are reviewing our first order from Cann Trust We picked up some deadly Gold Kush. Gold Kush is a very strong indica strain at 27% THC, It's known for high THC levels and potent effects. When I got this order in, I smoked a nice bong and it kicked my butt man, like a half hour later it put me right to sleep
.
I have to say is, finally a medical strain that should actually be called as a medical strain. Very few licensed producers carry a heavy indica strain like this. The producers that do, usually just send it all to the recreational market and cash in. I am really happy that CannTrust has still kept this available after legalization. I wish more LP's would step forward and provide these strains to their patients because this is an effective pain medication. If I could afford to smoke this all the time I wouldn't buy anything else. It is just that good!!
So these nugs are a nice size nothing too big that comes with huge stems or are they popcorn nugs, They look great, they are fairly dense. They are light green with deep green spots. There is heavy coating of trichomes covering everything, It looks and smells delicious.
CannTrust advertises this strain of Gold Kush has the highest terpene content they have seen so far. But we immediately see Prominent terpenes like myrcene, caryophyllene, pinene and terpinolene give this strain an earthy, woody scent complimented by pine and a pinch of pepper.
Gold Kush is a proprietary phenotype of Kosher Kush.