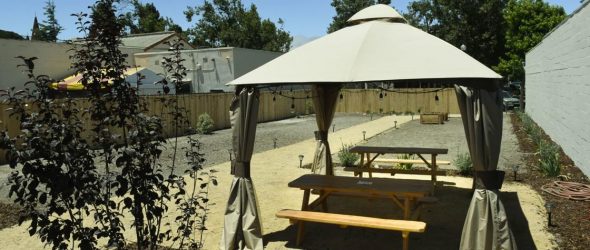 https://cannabisexaminers.com/wp-content/uploads/2020/07/5f0e29f5b4426.image.jpg
Elevate Lompoc negotiated a deal with Daniel Hyun, who owns the lot, that will allow the dispensary to rent out the space and use it during its normal business hours.
Dispensary employees, and other workers contracted by Elevate Lompoc, cleared out the space over the latter half of June. That work included bringing in a skip loader to remove much of the trash and debris that had collected in the space while it sat vacant for the past 20-plus years.
"The amount of broken bottles in this lot was crazy," McKee said. "It was unreal."
After that, the dispensary erected a fence to close in the lot — dispensary-related events are only open to people ages 21 and older, necessitating the barrier — and designed a walkway and installed picnic tables.
So far, Elevate Lompoc has held an anniversary celebration, as well as a promotion on July 10 to celebrate "710" or "Dab Day," a holiday of sorts in cannabis culture.
For those gatherings, the dispensary invited food trucks and set up games and activities within the pocket park. Those included an adult bounce house — again, no kids allowed during cannabis events — and educational programs, like growing tips from a cannabis farmer, and on-site glass-blowing demonstrations from glass artist Lydia Leung.
Among future ideas, McKee said Elevate Lompoc is considering acquiring a large, inflatable screen that the dispensary could use after sundown to screen "stoner movies" in the space.
Further, a yoga enthusiast involved with the dispensary is looking at offering outdoor yoga classes in the park.