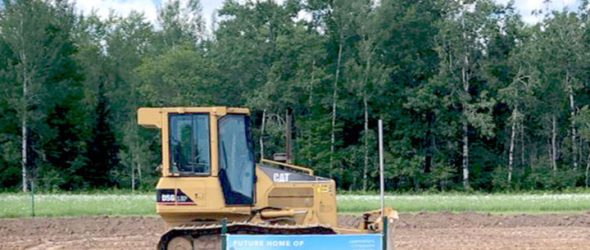 https://cannabisexaminers.com/wp-content/uploads/2020/07/MC3B_groundbreaking_1.jpg
CRYSTAL FALLS — Construction has begun in Mastodon Township on a greenhouse that will be used for year-round growing of medical cannabis.
MC3 Botanicals is on track to become the first and only women-owned marijuana grow facility in the Upper Peninsula and will supply organic medical cannabis to provisioning centers across the state, said Sherry Smies, founder and president.
"We are a compassionate company that has a mission to have a positive impact on people's lives while educating about the process and medical benefits from this amazing plant," Smies said.
Working with ArchSolar from Maine, the single-bay greenhouse features thermal protections for a harsh winter climate, including snow and wind loads.
MC3 Botanical's flagship greenhouse will be more 6,300 square feet using a 50-foot span bay. This bay will provide a higher percentage utilization of planted space over traditional greenhouse designs. 
Smies said she believes MC3 should be fully licensed and can begin growing in November, with the first production ready in 2021.
"Whether we're engaging with provisioning centers or the community at large, our priority is producing a trusted resource for pure, clean, high grade medical cannabis," Smies said. "With ArchSolar's facility design and Ceres Greenhouse Solutions' GAHT system, we will reduce the energy usage and demands that normal grows consume."
Using the benefits of the sun, the greenhouse is expected to reduce energy usage by up to 50%.
Business partner Susan Schuytema said the MC3 team has a blend of skills, experience and talent.
"From business entrepreneurship, to graphic design, to multi-platform marketing and working in the health care profession, all three women owners bring a unique skill set to the table," Schuytema said. "We are also thrilled to have a master grower with a horticulture degree and over 20 years of greenhouse management to assure we have the best product possible."
"We need to give special thanks to Mastodon Township as well as the state of Michigan for working with us through this long and arduous process," Smies added. "This is not an easy venture, especially for women, but we continue to persevere to make our vision a reality and will encourage and help other women in this industry. We also look forward to giving back to this community that has been so supportive of our mission."
More information on the company is available at http://mc3botanicals.com/.