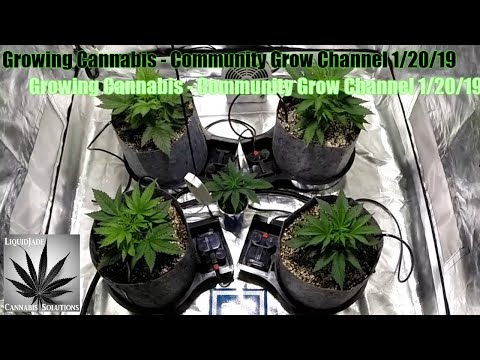 https://cannabisexaminers.com/wp-content/uploads/2019/01/3491/growing-cannabis-8211-community-grow-channel-1-20-19.jpg
Growing Cannabis – Community Grow Channel 1-20-19
Official Website & Store: https://liquid-jade.com/
Whats Up Growers!
So as you can see i did end up changing the name of the channel. BUT i changed it to something that i think will have a show of force saying we are together. I will have your back and you have mine. We will grow TOGETHER. So i am honestly super happy about this. I will go into details in the videos but i wanted to show my love for each and everyone of you as a grower.
We are killing it in the grow room right now the COCO run is making me super happy and i am loving how things are going thus far. I want to say thank you for you guys pushing me to do this and get out of my norm. It is bringing me back to a place where i was happy about growing again. I have pent more time in the grow room just being amazed (and honestly not working to hard either)
So i hope your not upset about the 4×4 grow ending. i know that i am happy to put that grow behind me because of SOOO many problems during that grow. I am looking forward and happy for the future.
Growing Cannabis – Community Grow Channel 1-20-19
—————————————————————————–
Official Website & Store: https://liquid-jade.com/
http://www.ebay.com/usr/liquidjade
This is the E-Bay link for everyone.
YouTube: https://www.youtube.com/liquidjade1
Facebook: https://www.facebook.com/LiquidJade1/
Vimeo: https://vimeo.com/liquidjade
Instagram: https://www.instagram.com/liquidjade1/
Twitter: https://twitter.com/Liquid_Jade
Twitch Live Stream: https://www.twitch.tv/liquidjade
Nothing is for sale on this channel.
Legal Grow Op for 100% education only.
—————————————————————————–
Last Weeks Update:
https://www.youtube.com/watch?v=yzj4XXAxlDU&t=120s