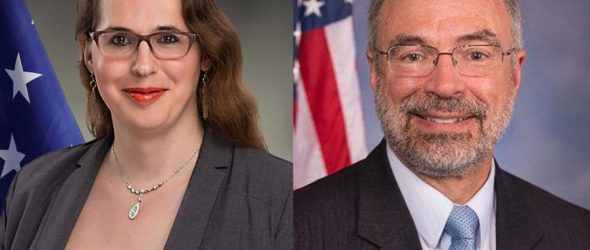 https://cannabisexaminers.com/wp-content/uploads/2020/09/5f6cbfa4a04d6.image.jpg
EASTON — U.S. Rep. Andy Harris, R-Md.-1st, continues to brandish his reputation as a leading opponent of marijuana legislation.
Meanwhile, Mia Mason, a Democrat challenging Harris for his Eastern Shore congressional seat, backs legalizing marijuana for recreational use.
Mason supports a federal bill to legalize pot nationally while Harris recently hailed the measure stalling on Capitol Hill. The issue offers voters a stark contrast in the November congressional race.
Harris applauded a delay in a potential U.S. House of Representatives vote on a bill to legalize marijuana for recreational use and to remove it from the federal list of 'controlled substances'. Marijuana is still illegal under federal law and is classified as a Schedule 1 banned substance along with heroin, ecstasy, LSD and other drugs.
"With all the work Congress should be doing, taking valuable time to legalize a gateway drug to opioid use would not have been a good idea," Harris said in a social media statement referring to a delay in a House floor vote on the MORE Act.
Harris, an anesthesiologist and medical doctor, said in an interview with The Star Democrat he worries about marijuana's impact on developing brains including among young adults up to age 25. He also voiced concerns about marijuana legalization leading to more underage use.
"We know it will leak down to underage children and adolescents," Harris said.
Mason said she supports marijuana legalization, including at at the national level.
"I'd be voting for it," Mason said in an interview with The Star Democrat.
She pointed to the medical benefits of marijuana including for veterans suffering from PTSD, post traumatic stress disorder.
"There all kinds of wonderful products to be used for medical treatments," Mason said
Mason said legalizing marijuana can help create jobs and can cut crime. The federal bill would also impose a 5% federal excise tax on marijuana products similar to levies imposed on alcohol, cigarettes and gasoline.
Mason said marijuana legalization in the District of Columbia, which Harris opposed, resulted in fewer crimes and arrests.
"Their crime numbers slowed down. It went down. They weren't doing stop and frisk any more for anyone that smelled like marijuana," Mason said.
Harris also said he would also like to see more regulations of CBD products. CBD oils, or cannabidiol, are used in medical marijuana products. They are legal in Maryland, Delaware and most other states. Harris would like to see more research and scrutiny of CBD products including for their purity and safety.
"I think the FDA should get a little more involved in regulation in the CBD market," Harris said.
Harris also wants more scrutiny of medical marijuana. The Eastern Shore Republican has sponsored federal legislation to making easier for scientists to pursue such projects.
"The DEA schedule of the drug interferes with that," Harris said referring to marijuana's Schedule 1 status.
Harris said those efforts have been bipartisan pointing to legislation sponsored with U.S. Rep. Earl Blumenauer, D-Ore.
Medical marijuana is legal in Maryland, Virginia, Delaware and most other U.S. states. A dozen states, include California, Colorado and Massachusetts, have legalized marijuana for recreational use. A marijuana for recreational use effort in Maryland could be launched next year, according to the Marijuana Policy Project.