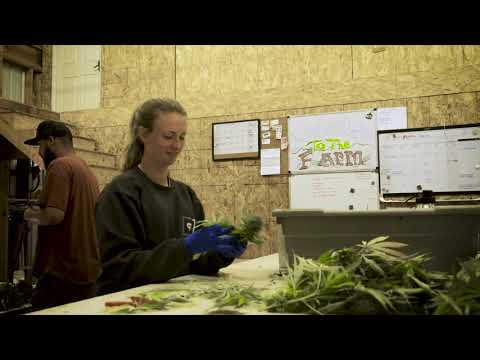 https://cannabisexaminers.com/wp-content/uploads/2018/11/1463/harvest-season-life-on-a-cannabis-farm-in-southern-oregon.jpg
Harvest season in Southern Oregon is in full swing. The long, warm summers, rich native soil, and excellent sunlight make this one of the best natural landscapes to cultivate cannabis. Farms big and small alike dot the rugged countryside. The growing season winds down as the days get shorter and the cannabis grown here reaches peak ripeness.
The hard work doesn't stop once the plants are done flowering. In fact it picks up as the big, beautiful plants at Phantom Farms are ready to come down with the rest of this season's harvest. To see how the team at Phantom tackles the immense task of harvesting their entire farm and to witness how life on the farm changes this time of year they invited Will Hyde for a first hand look at the action and their picturesque slice of the Oregon countryside.
Read about Life on a Cannabis Farm on Leafly: http://bit.ly/2Okd8gJ
Explore other strains on Leafly: https://www.leafly.com/explore
Follow Leafly on Social Media:
Facebook: https://www.facebook.com/leaflydotcom/
Instagram: https://www.instagram.com/leafly/
Twitter: https://twitter.com/leafly
YouTube: https://www.youtube.com/c/leaflydotcom
This product has intoxicating effects and may be habit forming. Marijuana can impair concentration, coordination, and judgment. Do not operate a vehicle or machinery under the influence of this drug. There may be health risks associated with consumption of this product. For use only by adults twenty-one and older. Keep out of the reach of children.