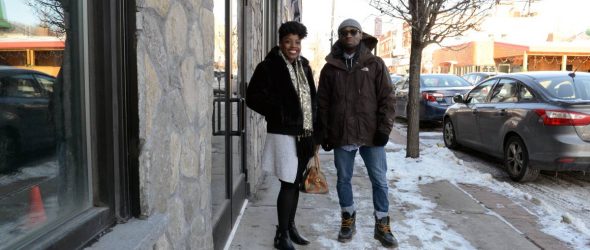 https://cannabisexaminers.com/wp-content/uploads/2020/01/dsc-4848-lede.jpg
Laury Lucien wants her pot shop in downtown Worcester, Mass., to be more than a business. She wants to create culture.
"How I feel when I see the design we picked out, it feels like Spike Lee in Brooklyn, with jazz music and the brick," said Lucien, 33, who is also an attorney specializing in cannabis regulation and policy. "That's kind of the vibe we're going for in this space. We're trying to make this part of our culture."
For now, the high ceilings, brick walls and sturdy old wooden beams of Lucien's future storefront on Millbury Street are covered in cobwebs and dust — the building's been vacant for the past 15 years. Lucien's business, Major Bloom, is in a rapidly developing part of the Canal District, just blocks from the new Worcester Red Sox ballpark development. Lucien expects to employ a dozen people and do millions of dollars worth of business. But she said it's important to her that the shop feels like it's contributing to the local community.
"We're extremely blessed and lucky," said Lucien, referring to her ability to start her own business. "We have to make sure that we're opening the door for others who are coming behind us as well."
Major Bloom is one of dozens of cannabis companies trying to open shop in Worcester County and surrounding areas. Worcester has the most license applications of any county in the state to open pot businesses and is now home to the Massachusetts Cannabis Control Commission (CCC), meaning central Massachusetts is primed to become one of the most active parts of the region's burgeoning cannabis industry. Local entrepreneurs and some lawmakers in the area see this shift as a welcome opportunity to take advantage of the influx of capital and become a model for the rest of the country for what an active regional cannabis industry can look like.
The CCC first announced its planned move to Worcester in 2018 and has since set up shop in a spacious office area in Worcester's Union Station.
Commissioner Shaleen Title says Worcester was an obvious choice for the commission, which regulates the industry throughout the state. Title said Central Massachusetts was primed to be a potential capitol of cannabis on the East Coast.
"I didn't foresee this, but the way this is playing out, central Massachusetts is really proactive — what I call 'marijuana forward' — in terms of embracing the way that these new businesses can be part of the community," she said.
Title said being centrally located also helps communities across the state access the commission. "I get a rich sense of the communities," said Title. "We want to make sure that everyone across the state is supported. We're a statewide agency."
Worcester County has 147 applications filed with the CCC — the most of any county in the state — followed by Berkshire County, which has 59, according to data released by the commission. Worcester County leads in submitted retail licenses, as well as for cultivation and manufacturing.
Peter Bernard, director of the Massachusetts Grower Advocacy Council, said a big part of Worcester County's attractiveness for businesses is its central location and the availability of real estate.
"I think it's a combination of the towns being more agreeable, as well as there being some really good locations for it," said Bernard. "Worcester County is kind of an in-between suburban and urban, depending on where you are, so there's a good mix of property types."
Bernard said a lot of cities and towns in central Massachusetts never fully recovered from the 2008 recession and find themselves with a lot of empty warehouses and storefronts that have been gathering dust for decades, like Lucien's shop in Worcester.
"There are exactly the kinds of properties people in this industry have been looking for," said Bernard. "For the most part, landlords are pretty motivated to write a lease."
Bernard said in his experience, communities outside of the metro Boston area are more eager to attract business and get the economic benefits of the cannabis industry and are less concerned about the potential negative impacts. Many communities in central Massachusetts have made it easy for prospective shops to go through the licensing process and draft host community agreements, Bernard said. A host community agreement is a document created between a municipality and a cannabis company laying out terms for the company, ranging from security measures to job creation and other contributions.
"The towns certainly enjoy the extra income," he said. "They don't have to raise property taxes to buy a new snow plow."
In 2019, the Massachusetts cannabis industry generated $420 million in gross sales, according to recent data from the CCC. State officials estimate over $100 million in taxes will be raised by the end of the fiscal year in the state, as well as millions of tax dollars going to individual cities and towns with open shops, says the CCC.
Cannabis attorney Blake Mensing is opening a shop in the town of Uxbridge — a town he described as "the gold standard of municipal treatment of the cannabis industry" because the town is asking for less money in fees than the maximum they could ask for, in an attempt to attract business. Uxbridge has approved 16 license applications filed with the CCC.
But not all cities and towns in central Massachusetts have welcomed the industry with open arms. Results from the 2016 referendum legalizing recreational cannabis shows wealthier suburbs north of the city of Worcester, such as Holden, Northborough and Boylston, voted against legalization, which sets them apart from the rest of the region. Soon after the referendum, two of those towns, Southbridge and Shrewsbury, imposed legal limits on recreational pot businesses. Most of these cities and towns have no licenses filed with the CCC.
The city of Worcester has 24 license applications, tied with Holyoke for the most in the state, according to the CCC. Jacob Sanders, chief of staff for Worcester's city manager, said the city never proactively attracted cannabis businesses. He said he thinks the popularity of the city was largely circumstantial.
"I think people see a growing city and one that has a lot of opportunity. The real estate prices are still reasonable," said Sanders. There are currently five marijuana businesses open in the city, which generated $405,945 in sales taxes so far, according to city officials.
"The industry has been a boon for municipalities from a tax perspective," said Sanders. "We'll be using that funding to help offset some of the costs associated with the industry, including some substance prevention and substance abuse prevention initiatives."
Lucien and her business partner, Ulysses Youngblood, 31, say working with the Worcester city government has been a positive process.
Youngblood said he was impressed with city officials he worked with, particularly their support of Major Blooms' economic empowerment status, a CCC designation for businesses that are owned by people from minority communities or from communities that have been disproportionately impacted by the war on drugs.
"Worcester was very open in understanding the concept of economic empowerment way more than a lot of other municipalities were," said Youngblood, who lives in Worcester. "Hats off to them for being able to recognize economic empowerment, social equity and equity in general in this industry."
Youngblood and Lucien are both black. Youngblood said he was kicked out of college in Worcester when he was in his early 20s because his dorm room smelled like marijuana. Becoming a leader in this industry and encouraging people who have been systemically disadvantaged in the industry is personal, he said — and it means a lot to Lucien, as well.
"We've committed to hiring at least 80 percent of our people from neighborhoods that have been disproportionately impacted," said Lucien. "We've made some real commitments as a result of being an economic empowerment certificate holder, and that's going to directly benefit the neighborhood."
Lucien and Youngblood are currently waiting for their license to be processed by the CCC. They are planning both retail and manufacturing operations at Major Bloom and are expecting a provisional license within the next couple of months. Their "economic empowerment" status helps speed up the licensing process.
Lucien also teaches, to help economic empowerment applicants learn what they need to know to get a job in this growing industry. On top of that, Lucien and Youngblood are planning to hold classes on entrepreneurship and business, a program they call "Economic Bloom," for local people both within and outside of the cannabis industry.
While Lucien and Youngblood want to help aspiring business people, a new program a Clark University in Worcester aims to educate the next group of marijuana regulators.
This September, the university launched the country's first graduate certificate program in cannabis regulatory affairs. The courses are for people working in municipalities and people working in the industry to better understand the murky policy issues that come up with this rapidly changing industry.
Worcester is the best place to have this program, said John LaBrie, the dean of Clark's School of Professional Studies.
"Worcester is more representative of New England and probably more representative of the state of Massachusetts on a cultural basis than Boston is," said LaBrie. "Worcester is more representative of how the citizens of the commonwealth think about public policy issues. What is relevant on the streets of Worcester is probably also relevant in Springfield and North Adams and other places across the state."
The graduate program has 20 people this year, half from Massachusetts and half from out-of-state, as far as California and Hawaii. LeBrie said Massachusetts has been more aggressive than most states in coming up with standardized regulations for cannabis, and Clark wants to be at the front of the curve in asking and answering the biggest policy, health and culture questions.
"Worcester is where the action is in understanding how to regulate a well-run industry. There's a lot of community interest in making sure we get this right," said LaBrie. "I think the community here has seen that Worcester can take the lead in making this an industry that is that is safe, that is profitable for the business community and services a need for the population within its proper context."