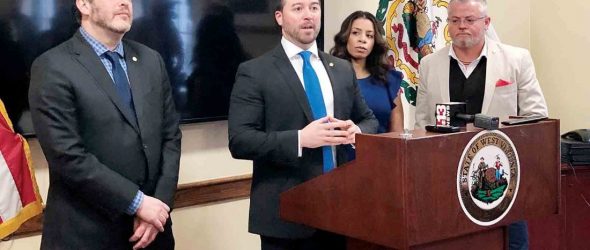 https://cannabisexaminers.com/wp-content/uploads/2020/01/01-30-20-Marijuana-tle-1100x748.jpg
CHARLESTON — Democratic members of the House of Delegates said Wednesday that if the state legalizes and regulates cannabis use, the state won't have to beg for border counties in other states to join West Virginia.
They'll willingly come, the lawmakers said.
Delegates Shawn Fluharty, D-Ohio, Mick Bates, D-Raleigh, Mike Pushkin, D-Kanawha, and Sammie Brown, D-Jefferson, spoke to reporters Wednesday about bills dealing with legalizing and taxing marijuana, decriminalizing and expunging convictions for marijuana possession and making continued tweaks to the state's medical cannabis program which has yet to issue a permit.
Fluharty, referring to efforts by Republican lawmakers and Gov. Jim Justice to invite Virginia counties and cities to vote to join West Virginia, said legalizing recreational marijuana would make the state more appealing.
"We heard a press conference from our governor and how he wants to bring people into West Virginia. It was a bit of a fairy tale," Fluharty said. "We have actual pieces of legislation that Democrats have introduced for years now that will actually bring people to West Virginia. Since the time that legislation has been introduced years ago, nearly 60,000 West Virginians have left our state."
Fluharty said legalizing marijuana would have major economic benefits to the state. According to a 2018 study by the congressional Joint Economic Committee, the industry brought in $8 billion in 2017 and is estimated to bring in $23 billion by 2023. More than 120,000 are employed by the marijuana industry.
"We have continued to turn our back on the fastest growing industry in the entire country," Fluharty said. "Those are jobs that could go to West Virginians and bring people from Virginia to West Virginia to live here, to work, to put West Virginia families first and build for their future."
According to the National Conference of State Legislatures, 11 states and Washington, D.C., have legalized small quantities of cannabis for personal use, though none of West Virginia's surrounding states have done so.
Bates is the lead sponsor of House Bill 2321, which would legalize the sale, production and adult consumption of cannabis. It would give counties the option to allow marijuana sales or production by a vote of the people.
The Department of Health and Human Resources Bureau of Health would regulate recreational marijuana. The bill would also allow for excise and local sales taxes on the legalized product.
Speaking Wednesday, Bates was quick to push back against those who say the bill would create a wild west for drug use.
"I'm not personally, nor are our House Democrats, in favor of recreational marijuana," Bates said. "What we are in favor of is the decriminalization for personal possession and consumption, the regulation and the taxation of cannabis."
HB 2321 was introduced Jan. 8 on the first day of the 2020 legislative session and was sent to the House Health and Human Resources Committee, but has not been taken up by the committee. During a Jan. 23 floor session in the House, Democratic lawmakers attempted to discharge the bill from the committee so House members could vote on it, but the motion was tabled in a 54-41 vote.
Bates said even if the House Health and Human Resources Committee takes up the bill, it still has to go through the House Finance and Judiciary committees. Triple-referenced bills often don't make it through the legislative process, which Bates called the "kiss of death."
"It has no opportunity to be considered fully," Bates said. "We believe that the votes are there; that if this bill came to the floor, a number of our Republican colleagues would join with us, because it's not a Democrat or Republican issue. It is a bipartisan issue."
Another bill soon to be introduced by Brown would decriminalize small amounts of marijuana. According to the Conference of State Legislatures, 26 states have decriminalized marijuana at the state level, turning marijuana possession into a civil or local infraction. Two surrounding states, Maryland and Ohio, have decriminalized possession. Ohio's decriminalization effort turned marijuana possession into a low-level misdemeanor with no jail time involved.
According to statistics cited by Brown, there were 4,400 arrests for simple marijuana possession in West Virginia in 2010. Since then, FBI statistics show that number has dropped to 2,533 arrests for possession in 2016. In West Virginia, simple possession of any amount of marijuana is a misdemeanor resulting in a $1,000 fine and a sentence of anywhere between 90 days or up to six months. Brown said current state law disproportionally affects the black community.
"It is the impoverished black and brown communities that are incarcerated," Brown said. "We're saying unequivocally that we are a state that welcomes all here regardless of what you use to medicate."
West Virginia already has a medical cannabis program. Senate Bill 386, the West Virginia Medical Cannabis Act, was signed into law on April 19, 2017. But the state is still years from being able to issue the first medical cannabis cards.
The Office of Medical Cannabis started accepting permit applications for those wishing to grow, process and dispense medical cannabis to patients with valid prescriptions last month. The permit period closes at 3 p.m. Feb. 18, but it could take up to six months before the first permits are approved and into 2021 before patients can receive certification to use medical cannabis.
Pushkin has introduced several amendments to the Medical Cannabis Act, including allowing for cannabis that can be smoked, cannabis flour and edibles and allowing patients to grow up to 10 plants. Another bill would deal with reciprocity between West Virginia and other states with medical cannabis laws.
"We should be able to enter into reciprocity agreements with neighboring states that are doing this a lot quicker and a lot better than West Virginia is right now," Pushkin said. "We want people from Virginia to move here, so let's fix this so we can get people from all over the country to move here."
Steven Allen Adams can be reached at sadams@newsandsentinel.com.