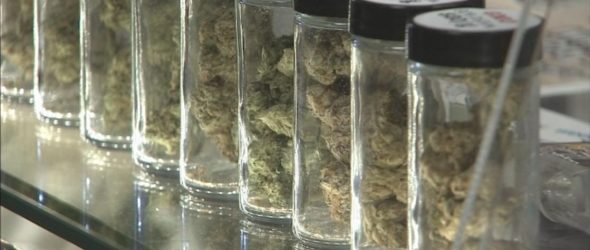 https://cannabisexaminers.com/wp-content/uploads/2020/02/5de58bb8bf182.image.jpg
Michigan's legalization of medical and adult-use marijuana also created a budding industry for compliance testing.
The state wants to guarantee cannabis products consumers can count on with minimum standards for potency and purity. Anything sold through a licensed provisioning center has to be tested.
PSI Labs in Ann Arbor is one location where samples are analyzed with science.
"We rely primarily on a lot of different types of mass spectrometry, often coupled with chromatography," said Lev Spivak-Birndorf, co-owner of PSI Labs.
Though it's spelled P-S-I, an acronym for precision, safety, and innovation, it is pronounced "sy" with the "p" silent. Precision is however, the most important part of making sure Michigan's medical and adult-use marijuana is potent and as pure as possible.
"We're ensuring that any number of harmful compounds that can get into the product as part of the process, you don't have those. On the other hand, we're looking to make sure you have the correct amount of good compounds that you want, to make sure the efficacy of your medicine or recreational product is where you want it to be," Spivak-Birndorf said.
PSI Labs co-founders and owners, Ben Rosman and Spivak-Birndorf, are both medical marijuana patients themselves. They have particular personal concerns about purity of the product, especially for the proposed healing properties of CBD.
"We've tested things that have come back with no CBD whatsoever, and that's highly problematic," Rosman said.
The testing in these, and other labs around the state, ensures all marijuana legal in Michigan – including concentrates, edibles, and flower – contains the required therapeutic cannabinoids. But minus mold, mildew, fungus, pesticides or heavy metals that are all common contaminants.
In their state-of-the-art – but soon-to-be outgrown – 6,300 square foot facility, a team of scientists and technicians pour over high-tech equipment and representative samples from cannabis companies of all kinds.
The full-service testing is not limited to businesses because, "patients and caregivers alike are able to test their products with us as well as licensed facilities," Rosman said.
Spivak-Birndorf, a Ph.D. chemist in geology, has lots of expertise in trace chemical analysis.
Rosman is an attorney with a background including defending criminal marijuana cases. He was kept very busy in the early days after legalization.
"It was the wild west of the Michigan medical marijuana days, so you could be arrested and charged with a felony or misdemeanor if you grew a couple too many plants more than you were allowed to grow," Rosman said.
PSI Labs was among the first testing locations licensed by the state. It annually runs tens of thousands of tests, sometimes nearly a dozen on each sample.
The analytical methods are quite complex, but required legally and ethically, because both men say despite the product's quality for controversy, users deserve a high-quality marijuana product.
PSI Labs has also tested nearly a thousand cannabis cartridges for the potentially deadly vitamin E acetate, linked to vaping-related lung illnesses. The state of Michigan is letting those products return to dispensary shelves once proven free of the chemical.