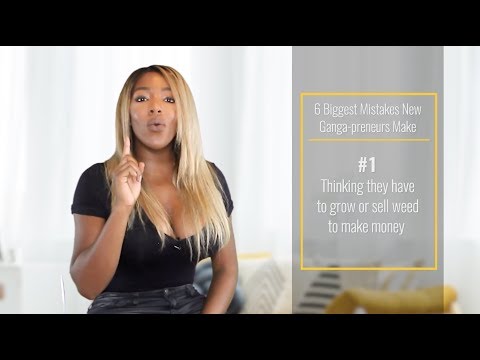 https://cannabisexaminers.com/wp-content/uploads/2018/11/965/hqdefault.jpg

It's Money Monday! Today, we're talking about finding financial freedom in the green industry.
(***FREE Online Cannabis Business Webinar – register here: greenrushworkshop.com*)
Interested in the industry but unsure where you'd fit in or how to get started?
Worried you can't afford to take advantage of this opportunity of a lifetime to get into this nascent billion dollar space?
Living in a state or country that has yet to legalize but you still want in – LEGALLY?
This is for you.
6 BIGGEST MISTAKES TO NEW GANGA-PRENEURS MAKE:
1. Thinking they have to grow or sell green to make money in the industry.
2. Thinking they have to start their new career from scratch.
3. Trusting amateurs posing as experts.
4. Being inflexible.
5. Not designing a lifestyle around this opportunity.
6. Thinking they need a bunch of money to get started.
(*list starts at 5:56 in video)
Don't forget to answer the question: What would you do with this oppotunity if there was no chance you could fail?
Sign up for my FREE Online Webinar on how you can get into the cannabis industry NOW: greenrushworkshop.com
Want more? The full post is up on my site. Head to charlogreene.com and join my list – The Fight Club – we're a community of people fighting for better business, relationships and overall, a better life.
Love ya!